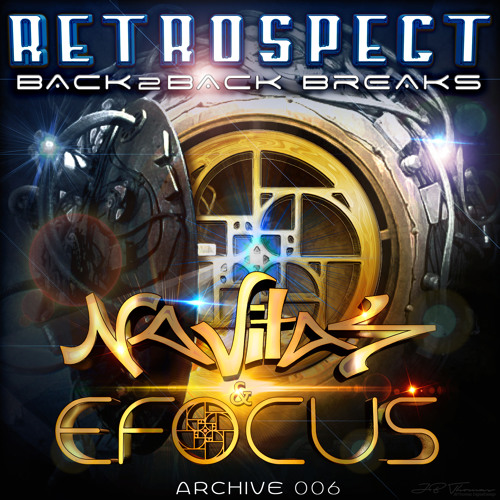 Style:
Breaks / BreakBeat / Atmo/Progressive Breaks
Rar:
280Mb
Format, Quality:
[mp3/320kbps]
Released
11/01/2020
Enter the timeless machine we call Retrospect, where rave and club music reigns supreme. Only the finest mixes are chosen for this series so you are assured an immersive time-traveling experience into the heart and soul of the artist with every mix archived.
This was a very special mix for many reasons, some you will discover for yourself, but for me just being blessed to vibe with Bea aka Navitas. What an absolute gem to work with. We chose to keep our mixes secret from each other until it was time to put it all together. What a surprise that turned out to be, it showed both of us that shedding another passing year and welcoming a new one can be an almost telepathic conversation among friends when expressed through music. With this being her first EVER official release I couldn't be happier for her and grateful she chose Retrospect. Really enlightening and fulfilling project.
Navitas making her mission clear - "Focused on the feeling she is sharing with those through music, and inspiring others to shine their light too. Passion & Love = 2 of the forces this budding artist ignites as she blossoms before us. Her magnetic performance draws you close. Moving bodies to the rhythmic flow. Energy "get up and go"!
TracklistNavitas
1. Momu Ц Sunsicle (Original Mix)
2. Under This Ц Skyline (Phrakture Remix)
3. Puremusic Ц Shivered (Original Mix)
4. Perry Saunders Ц 7 (Original Mix)
5. Lostep Ц The Roots (Original Mix)
6. Stephen J. Kroos Ц Pluviophile (Phrakture Remix)
7. Powerplant Ц Turn it into Gold (MadokaТs Faded Memories mix)
8. Downgrooves Ц Puedo Sentirlo (LlupaТs Rolling Thunder Remix)
9. Fretwell & Retroid Ц Verticle Horizon (Retroid Dazzle Prospect mix)
10. Momu Ц Hydergine (Fretwell Remix)
Efocus
1. Nunik Ч Origins (Original Mix)
2. Modal Ч Helicotrema (Banque Remix)
3. Mariion Christiian Ч Spider Baby (Retroid Remix)
4. Paket Ч Corrupt System (Original Mix)
5. DJ Peluka Ч Punk Twisted (Original Mix)
6. Digital Base & Andy Vibes Ч You Got The One (Original Mix)
7. Perpetual Present Ч ElektroShock Therapy (Metachemical Remix)
8. IMNAH Ч Ingenium (Original Mix)
9. Osc Project Ч Selecta (Original Mix)
10. Paul Bassrock Ч Big Love (Original Mix)
11. Paket Ч Firearms (Original Mix)
12. Brent Borel Ч Glorious Chaos (Original Mix)
13. Tryptich Ч Orca (Original Mix)
14. Keith MacKenzie Ч The Storm (Original Mix)
Online
Dead Link? (REPORT 1-5 Days) сообщить о ссылке на перезалив
Download for free music.