FRESH BASS RELEASES

»

Breaks

» VA - Funk N' Beats, Vol. 1 (Mixed by Pimpsoul) [BOMBFUNKB001]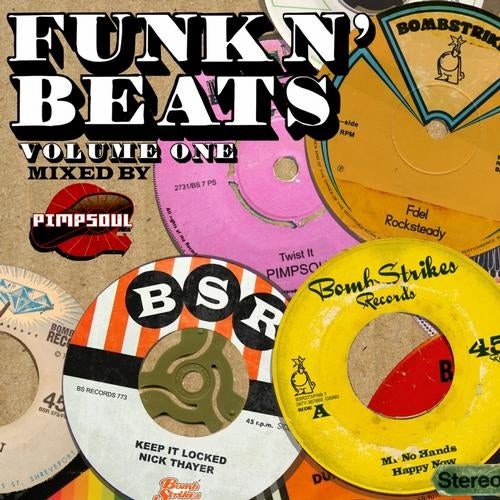 Style
Funky Breaks, Hip-hop, Ghetto Funk, Funky-Breakbeat
Release
30/12/2013
Quality
320 kbps MP3
Imprint
Bombstrikes
Nr#
BOMBFUNKB001Después de la compilación de gran éxito 'Bass Funk', el muy querido Bombstrikes, que ahora entra en su décimo año, rinde homenaje a donde comenzó todo, devolviéndolo al espíritu de lo que se trata el sonido del sello: The Funk and the Beats. . Como era de esperar 'Funk N Beats' Vol. 1 es una recopilación inmaculadamente curada no solo de los favoritos de Bombstrike, sino también de algunos de sus contemporáneos de la etiqueta. Con una selección de pistas que indudablemente cambian el juego y son clásicos fríos como la piedra, así como algunas nuevas exclusivas. Sumado a esto, la mezcla continua ha sido hábilmente elaborada en conjunto por uno de los artistas más importantes del sello, el mismísimo maestro del funky; Pimpsoul. La mezcla fluye a través de lo antiguo y lo nuevo a la perfección, al tiempo que conserva la energía y el ambiente que todas estas pistas tienen por sí mismas.
• Pimpsoul — Funkin' Intro 0:37
• Nick Thayer — Keep It Locked 4:15
• Grinny Grandad — The Good Girl (A.Skillz Remix) 3:11
• Breakestra — Cramp Your Style 2:07
• Dr. Rubberfunk, Sarah J — Watch the Tables Turn 3:41
• Pimpsoul, Mc Shureshock — Let's Do It (Right Now) (Basement Freaks Remix) 4:02
• Mr. No Hands — Happy Now 5:27
• Pimpsoul, Claire G — Noggins Groove 5:21
• Pimpsoul, Dj P — Place to Be 3:58
• Skeewiff — Feelin' Fine 4:27
• Rory Lyons, Utah Saints — I Got 5 on It (Pimpsoul Funk Remix) 3:17
• Rory Lyons, Utah Saints — I Got 5 on It (110bpm Acapella) 1:37
• Pimpsoul, Mooqee, Bianca Gerald — Feeling Good (Funk Mix) 3:09
• Pimpsoul, Mooqee, Bianca Gerald — Feeling Good (110bpm Acapella) 2:43
• Fdel — Rocksteady 4:00
• Pimpsoul, Claire G — Twist It 4:24
• Randa, The Soul Kingdom — The Things (Mooqee & Beatvandals Remix) 4:57
• Dj Format, Abdominal — I'm Good (DJ Format Remix) 4:08
• Urban Soul, Roland Clark — Brown James (Original II Deep Mix) 9:10
• Pimpsoul — Funk N' Beats Volume One (Continuous Mix) 45:25
20 / 1:59:46
Dead Link? (REPORT 1-5 Days) сообщить о ссылке на перезалив
Download albums, EPs, LPs & Compilations music.