FRESH BASS RELEASES

»

Breaks

» VA - Funk N' Beats, Vol. 9 (Curated by Jim Sharp) [BOMBFUNKB009]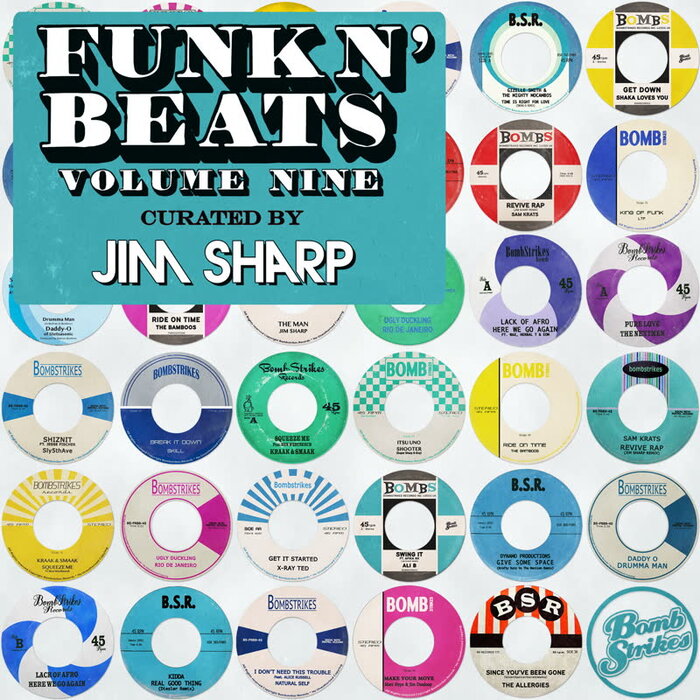 Style
Funky Breaks, Hip-hop, Soul, Funky-Breakbeat
Release
29/10/2021
Quality
320 kbps MP3
Imprint
Bombstrikes
Nr#
BOMBFUNKB009
Featuring 22 full-length cuts plus a 42-minute mixed version, there's no faulting the VFM on offer from this Jim Sharp-helmed Bomb Strikes comp. Featuring tracks and mixes from the likes of The Allergies, The Nextmen, Ugly Duckling, Alice Russell, Lack Of Afro and Sam Krats, the emphasis here is on the kind of dusty funk/soul grooves that sit well alongside hip-hop and breaks - as opposed to the stack-heeled, silver-jumpsuited kind that goes better with disco - with standouts for this writer including Sly5thAve's moody, cinematic 'Shiznit' (think Shaft staring broodily out of a rain-streaked diner window) and Skill's 'Break It Down', a stuttery, stop-start gift for the jazz-dancers.
• Jim Sharp — Shut It Down Intro 0:39
• Sam Krats, El Da Sensei — Revive Rap (Jim Sharp Remix) 4:49
• Jim Sharp — The Man 3:19
• Sly5thave, Jesse Fischer — Shiznit 4:35
• Randy Maverick — Pure Love (The Nextmen Remix) 2:46
• Lack Of Afro, Wax, Herbal T, Eom — Here We Go Again 4:30
• Shaka Loves You — Get Down 3:54
• Ugly Duckling — Rio De Janeiro 3:23
• Ltf — King of Funk 2:30
• Natural Self, Alice Russell — I Don't Need This Trouble 4:02
• Gizelle Smith, The Mighty Mocambos — Time Is Right for Love (Swing-O AKA 45 Remix) 4:38
• The Allergies — Since You've Been Gone 3:22
• Marc Hype, Jim Dunloop — Make Your Move 4:15
• Dynamo Productions — Give Some Space (Krafty Kuts vs. The Mexican Remix) 4:47
• Itsu Uno — Shooter (Super Sharp B-Boy) 4:07
• Kidda — Real Good Thing (Diesler Remix) 4:57
• Ali B, Afika Nx — Swing It (Jim Sharp Remix) 4:08
• X-ray Ted — Get It Started 2:35
• Kraak & Smaak, Ben Westbeech — Squeeze Me 3:18
• The Bamboos — Ride on Time 4:17
• Skill — Break It Down 2:43
• Daddy-o — Drumma Man 2:56
22 / 1:20:20
Inmediatamente después de la octava edición, que encabeza las listas de éxitos, la serie Funk N 'Beats de Bomb Strikes regresa rápidamente con una nueva colección de pistas seleccionadas por expertos. El tocadiscos y aficionado al vinilo con sede en Londres (a través de Toronto) Jim Sharp se hace cargo de las tareas de curaduría del noveno volumen. Como uno de los principales productores de ediciones y remixes de la escena, que vende regularmente sus lanzamientos de vinilo al instante, puede contar entre sus admiradores profesionales a leyendas como DJ Koco, DJ Jazzy Jeff, Skratch Bastid y Lord Finesse. La excavación de cajas en esta colección siempre iba a ser de primera categoría, ya que sus décadas de experiencia se aprovechan al máximo.
Jim Sharp no ha defraudado, la lista de pistas reunida incluye algunos clásicos fríos como la piedra junto con gemas olvidadas o pasadas por alto y algunas pistas muy actualizadas. Jim se basa en el espíritu de los lanzamientos anteriores de la serie, para ofrecer una colección con un gran atractivo tanto para el coleccionista más apasionado como para el nuevo oyente. La compilación presenta a la realeza del Hip-Hop en forma de Daddy-O y Ugly Duckling de Stetsasonic junto con nueva música del propio Jim Sharp. También ve pistas muy queridas solo en vinilo de artistas como Shaka Loves You y Skill obteniendo su primer lanzamiento digital. Otra música destacada proviene de The Bamboos, Lack of Afro, Sly5thAve, Gizelle Smith & The Mighty Macambos, The Allergies, Kraak & Smaak y muchos más. Como si eso no fuera suficiente, Jim ha entregado una excelente mezcla de DJ, mostrando no solo sus considerables habilidades sino también el álbum a la perfección. Esta es una recopilación increíble, que realmente muestra los mejores Funk N 'Beats.
Dead Link? (REPORT 1-5 Days) сообщить о ссылке на перезалив
Download albums, EPs, LPs & Compilations music.