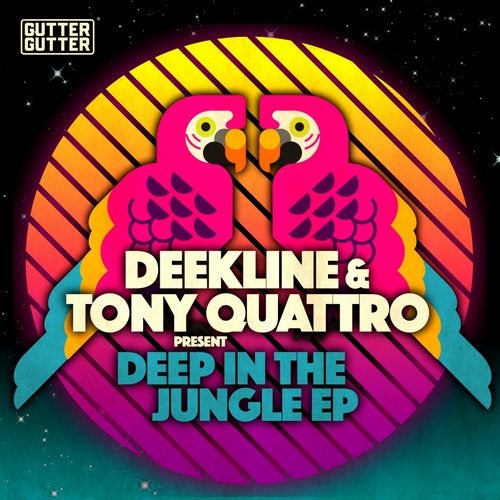 Music
Breaks
Release
4/05/2016
Quality
MP3,320kbps
Label
Gutter Gutter
Nr
GG018
Two bass stalwarts from either side of the pond we call the Atlantic collide to create a six-sided breaks beast that leaves very little stone unturned. "Deep In The Jungle" pays homage to the classic rolling Botchit sound with timeless darkness. Elsewhere we get shattered by synths on Tony's classic electro-minded "Liberty Plaza", we get soaked by subs on Deekline's "I Can't Wait" and we go back to the mid zeroes for a lean, mean Get Physical-style tech hook on "3 Mins To Midnight". With sounds like these you kind of have to hope that Deekline and Tony remain in the jungle for a very long time.Новые брейкс синлы и ремиксы от Дикляйна и Тони Квадро. В епишку вошел тот самый трек от Диклайна ай кэн вэй, с глубочайшим жирным грувом.
1. Deekline — Show Me 5:14
2. Deekline — Deep In The Jungle 4:29
3. Deekline — I Can't Wait 5:00
4. Tony Quattro — Liberty Plaza 5:38
5. Deekline — 3 Mins To Midnight 4:40
6. Deekline — Clap Your Handz (Tony Quattro Remix) (feat. DJ Assault) 4:34
itunes
Fresh off of his epic USA tour, which included dates at Burning Man, Slake NYC, and more, break-beat stalwart Deekline (aka Nick Annand) readies his latest release on Gutter Gutter – a new imprint that has won over tastemakers from Annie Mac to MistaJam. This time, Deekline teams up with one of the most exciting and talented new producers to emerge from the states in recent years: Tony Quattro. Tony is blowing up with his forward thinking tracks and remixes on labels like Enchufada, Nervous Records, Main Course, and the late, legendary Trouble & Bass. He also recently collaborated with the Stanton Warriors on their new, acclaimed album Rebel Bass. The split begins with Deekline's 'Show Me' - a stone-cold, future classic filled with electro basses, garage attitude, and a healthy dollop of rave sounds. 'Deep In The Jungle' keep up the momentum with crisp, explosive amen breaks, jungle bleeps, and forward thinking finesse. 'I Can't Wait' takes things a little deeper with a classic reese bass, dreamy pads, and epic rises. Next up comes Tony's solo track 'Liberty Plaza' which turns the EP on it's head fusing retro-funk riffs with a futuristic synths, chaotic breakdowns, and organ-rattling subs. Finally, 3 'Minutes to Midnight' draws the record to a close with a cool, low-slinging groove, and floor-filling 808s. Make you follow future Gutter Gutter releases as Deekline has more treats and beats ready for the streets!
Dead Link? (REPORT 1-5 Days) сообщить о ссылке на перезалив
Download more music.