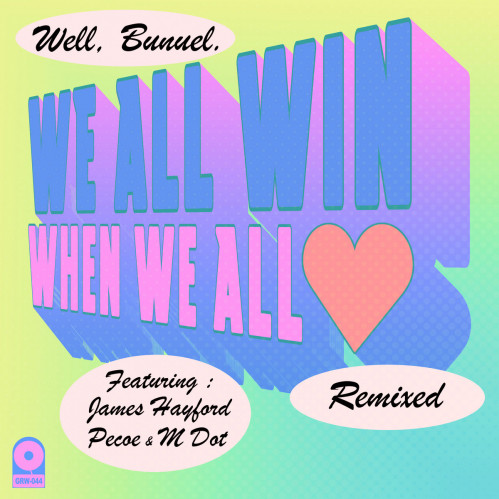 Music/Style
Breaks, Funk / Soul, House
Data
11/02/2022
Quality
MP3 320 kbps
Imprint
Growroom Productions
Nr#
GRW0441. Well, Bunuel - We All Win (When We All Love) [DJ M Dot Remix]
2. Well, Bunuel -We All Win (When We All Love) [Pecoe Remix]
3. Well, Bunuel -We All Win (When We All Love) [James Hayford Remix]
4. Well, Bunuel -We All Win (When We All Love) [Original Mix]
5. Well, Bunuel -We All Win (When We All Love) [Instrumental]
DJ M
Dot has been djing for ten years. Having built a reputation in DC, she gained residencies at some of the longest standing nightlife establishments in the city, including 18th Street Lounge, Saint Ex, and Marvin. Michal also produces and is honored to be on this project. Central to all of her work is the theme of building empathy-bridges through music and bringing people together from all walks of life on the dancefloor.
Pecoe
hails from Perth, Western Australia and his love for EDM started back in the very early 1990's attending various raves and club nights at that time. Pecoe runs the Breakzlinkz website too, since 2007 and an offshoot of that called Old Breaks Mixes. From the music production side of things Pecoe mainly keeps it funky and debuted his first EP back in 2017 on Breakbeat Paradise Recordings. Backing that up with releases on Cuttin It Fine, Gritz & Gravy, Big Fat Mama Beats, That's Not An Edit, Fort Knox Recordings, Applique Music, Young NRG Productions, 9th Avenue, Growroom Productions, Pig Ball Records and Spa In Disco.
Well, Bunuel.'s latest EP 'Somewhere Between A Groove And A Dream', released August 2021, contained the uber-earworm 'We All Win (When We All Love)' which struts along as P-Funk rhythm elements intertwine with ethereal sythns and a Daft Punk-ish vocoder vocal. We commissioned 3 remixes of the tune to showcase its versatility as a dancefloor burner.
DJ M Dot, who made her mark in DC clubs in the last ten years, puts an afro-house spin on her remix, making the chorus front and center with live percussion and bubbling bass. Pecoe, who has gotten massive play in his hometown of Perth, Australia and beyond, bumps up the tempo and plays into the "Groove and a Dream" aspects of the original, using synths and distorted guitars to provide a hypnotic dance track to lose oneself in. Lastly, James Hayford of the popular Shoes edits, strikes the perfect balance of ethereal and grit with his big breaks version. By displacing the time of the original vocal he has created an entirely new outlook on the track. We have also included the original mix and instrumental in this release.
Positivity reigns on 'We All Win (When We All Love) : REMIXED' with each track imbued with the full multicolored spectrum of light. This package is sure to get feet moving and butts on the dancefloor in praise of love.
Dead Link? (REPORT 1-5 Days) сообщить о ссылке на перезалив
Download albums, EPs, LPs & Compilations music.