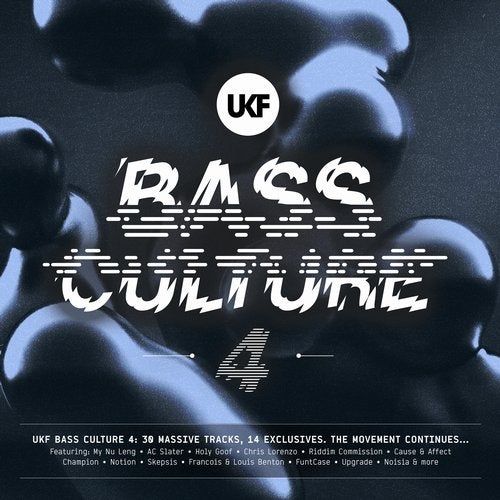 Music.
Drum and Bass, Uk Garage, Bassline, Grime, BassHouse
Release date.
28/09/2018
Quality.
320 kbps
Format.
MP3
Label.
UKF
Tracklist
1. Francois & Louis Benton – Only Us
2. DJ Zinc – Gammy Elbow
3. FineArt – Lighter Crew
4. Holy Goof – Shutdown
5. Skepsis – Goes Like Vip
6. Riddim Commission – Battle
7. My Nu Leng – Senses
8. Champion – Diamonds
9. Vellum – Swivel
10. Bushbaby – Let Me Hold You
11. FooR – Riot
12. Livsey – Call Your Name
13. The Prototypes – Levelz
14. Axel Boy – Gripped
15. DISKORD – Shook
16. Dommix – Pull the Trigga
17. Francois & Louis Benton – Over U
18. Doctor P – Cold Individual
19. Notion – Nemesis
20. Taiki Nulight – Nu Goods
21. Tengu – Thrash Attack
22. Skue-K – Debt Collector
23. Pelikann – Green Ranger
24. Zero – Untitled DJ Weapon
25. Darkzy – Simplicity
26. Sikdope – Badder
27. Upgrade – Popular
28. A.M.C – Boundaries
29. FuntCase – You Must Comply
30. Noisia – Asteroids
Amazon
descargar
Самые яркие и смелые из басc музыкантов объединили усилия для выпуска крупнейшего, на сегодняшний день, релиза Bass Culture.
"UKF Bass Culture 4" охватывает всю сущность и энергию многогранного движения в DnB, которое продолжает управлять молодежной и клубной культурой Великобритании, как никакой другой стиль электронной музыки.
В этом сборнике собраны 30 треков включая 14 эксклюзивных. Здесь вы услышите как определяющих сцену музыкантов Noisia, DJ Zinc, Chris Lorenzo, My Nu Leng and Doctor P, так и новое поколение артистов Bushbaby, Skue-K, FooR, Vellum, Notion, Holy Goof, Skepsis, Darkzy и целый ряд уже состоявшихся талантов Upgrade, DISKORD, The Prototypes, Pelikann и Friction под его альтер-эго для хаус музыки FineArt.
UKF Bass Culture 4' не оставляет камня на камне и охватывает полный спектр басс музыки. Начиная с взрывных басслайнов и басс хауса альбом постепенно развивается охватывая элементы дабстепа и заканчивается кульминационным финальным аккордом от A.M.C & Turno, Funtcase & Teddy Killerz, Upgrade, Noisia & Prolix
Это современный звук который играет на фестивалях по всему миру. Это звук коллаборации артистов, создающих музыку, и тех, кто сейчас их повторяет. Это звук самых диких танцполов по всей Великобритании прямо сейчас. Но самое главное 'UKF Bass Culture 4' - это звучание нового поколения фэнов и артистов, добавляющее свой собственный новый поворот и уходящее корнями в одну из самых сильных и объединяющих традиций Великобритании: басс культуру.
Данный выпуск серии с большим количеством эксклюзивов, чем любые предыдущие альбомы UKF Bass Culture, безусловно, наш самый яркий и смелый проект на сегодняшний день.
Dead Link? (REPORT 1-5 Days) сообщить о ссылке на перезалив
Download albums, EPs, LPs & Compilations music.