FRESH BASS RELEASES

»

Drum and Bass

» Rowpieces - Give Thanks LP 2019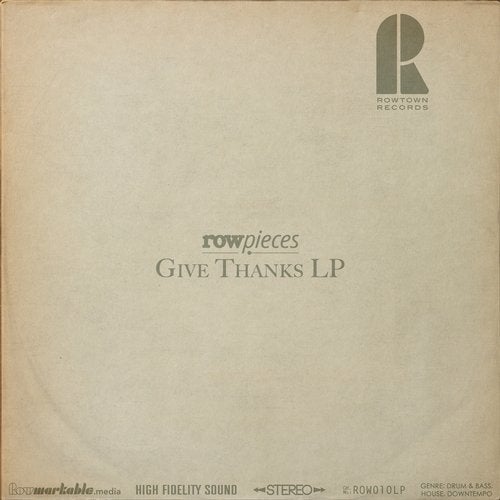 Style
Drum'n'bass, House, Liquid funk, Intelligent-DnB
Released
15/12/2019
Format
MP3,320kbps
Label
Rowtown
Cat
ROW010LP
Type
Album
This album by Rowpieces is something very special, because it has a certain concept and was planned and produced for a very long time.
Let the artist himself have his say: "The Give Thanks LP is meant to express my gratitude and is a dedication to all those who have enabled me to live my profession for many years. Thanks to these patrons and kind-hearted people who have helped me and supported me, I am now where I am and can bring joy to people all over the world with my art. I don't want to become too personal and pathetic, so don't mention any names, but there is a tune dedicated to each of them. Actions in good intention and unconditional charity remain unforgotten! The title "Just Keep Going (It Won't Help) is dedicated to my loyal fans, because they also have "complicity" that I still do what I do. The numerous, partly very emotional messages about my music, have always helped me to continue when I was disillusioned and desperate, and give a deeper meaning to my existence here on earth. I am quite sure that there is a kind of soul plan or higher task for everyone, and fate has obviously pushed me in the direction of music despite countless and sometimes severe adversities. I thank all the good souls who are angels on behalf of the universe from the bottom of my heart! Give Thanks, Row"1. Give Thanks Intro Pt. 1 — Deep Gratitude (02:33)
2. Give Thanks Intro Pt. 2 — Dedication To My Patrons (02:14)
3. Rowpieces — Big Sugar Daddy (05:40)
4. Rowpieces — Dream Girl (04:35)
5. Rowpieces — When It All Started (05:33)
6. Rowpieces — Friend Of The Arts [(Reinterpretation)] (05:40)
7. Rowpieces — Between The Golden Hours (05:51)
8. Rowpieces — Leave Behind Negativity (05:34)
9. Rowpieces — Carribean House (07:17)
10. Rowpieces — Just Keep Going (It Won't Help) (05:34)
11. Rowpieces — The Way That You Touch Me (05:12)
12. Rowpieces — San Terenzo Beach (05:53)
13. Rowpieces — They Never Told Me Truth Hurts (05:07)
14. Rowpieces — Yourow Dancer (05:40)
15. Rowpieces — Nur Ned Hudln (Do Not Hurry) (06:48)
16. Give Thanks Outro — The Law Of Attraction (01:30)
amazon
Dead Link? (REPORT 1-5 Days) сообщить о ссылке на перезалив
Download albums, EPs, LPs & Compilations music.