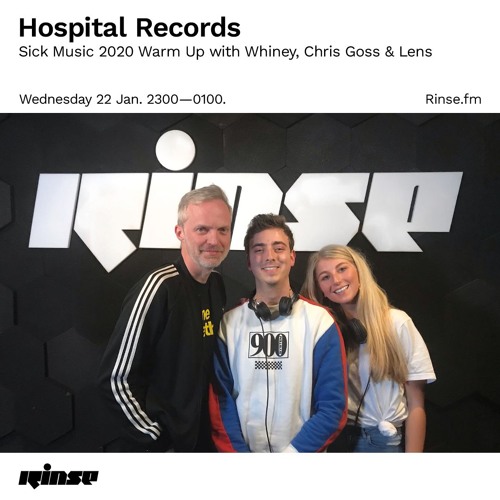 Style:
Drum and bass
Quality:
[mp3 - 320kbps]
Date:
22/01/2020
Zip:
275 Mb
Новый драм-энд-бейс сэт на Rinse FM. Новый отличный выпуск Hospital Radio на Rinse FM от Lens и Chris Goss. В гости к ним заглянул Whiney со своим специальным мини миксом. Сам выпуск посвящен будущему большому сборнику Sick Music 2020, поэтому в записи Вы услышите много композиций с него.
TracklistLens:
The Moment ft Lea Lea – Nu:tone
Blue Dreams – Grafix
Ruff Neck Cru – Sl8r
Levitate Your Mind ft Unglued – Degs
The Sin – Temam
Can't Catch Me ft Ben Shemel – Airshots
All This Time ft Charlotte Haining – The Vanguard Project
Hexagon – Seba x Paradox
Mr Time – Missing
Tech Trick – Radiax
Mochi – DJ Marky & Dutta
The Herald – Loxy
Clams – Talima Jets
Whiney Mini mix:
Galang (L-side remix) – Parly B
Hallowed – Whiney
Pub Grub – Hedex & Bou
Flashlight ft Inja VIP – Whiney
Fighter (spy Remix) – Dr Meaker
Circles (Pola & Bootleg bootleg) – Adam f
Poveglia (Whiney VIP) – Degs
Mind Your Own – Traumatize
Tribe (Trex bootleg) – Bas ft J cole
Algorithm – Unglued & GLXY
Mr Robot – The Sauce
Revvin' (Whiney bootleg)- Ocean wisdom
Air Force – Particle
Transparent ft. Whiney – Makoto
Ghetto Bizness – DJ Die
Oxymoron – T>I
Empty Seat at the table ft Whiney – London Elektricity
Lens:
You got me (S.P.Y Remix) – Kings of The Rollers
Snare The Blame – High Contrast
Desire – Yazzus & Magnum Larry
Breathe – Mark XTC & Bou
Dead Almost – Bop x Subwave
City on Lock ft Rider Shafique – QZB
Falling for Yoo – Think Tonk
Look at You – L-Side & Sl8r
Joys (Unglued Remix) – Roberto Surace
Mbe Mbe – Beat Merchants
Juniper – Grey Code
Snake Eyes – Kanine
Nine Strings – Rene LaVice & Future Cut
Fighter ft Lorna King (S.P.Y remix) – Dr Meaker
Jaws (Serum & Coda Remix VIP)- Mampi Swift
Egregor – Urbandawn
STK – Monty
Something Real ft Ruth Corey – Mitekiss
Duration
: 2:00:02
listen online
Dead Link? (REPORT 1-5 Days) сообщить о ссылке на перезалив
Download albums, EPs, LPs & Compilations music.