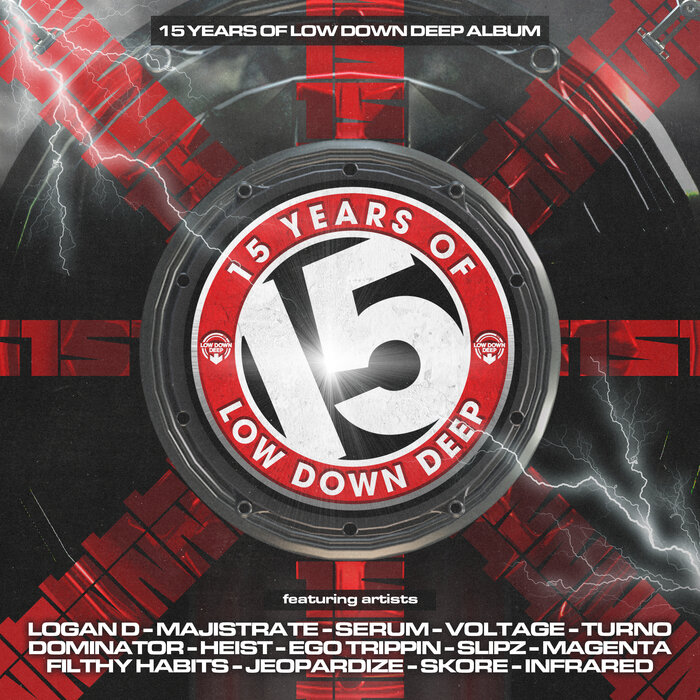 Music/Style
Electronic, Drum and Bass, Jump up
Release
1/12/2021
Quality
320 kbps MP3
Imprint
Low Down Deep Recordings
Nr#
LDDR194
Celebrating 15 years in the game and proving that jump up D&B is not just a flash in the pan, Low Down Deep Present their 15 Years Of Low Down Deep compilation album.
Review
: 15 years deep, but never on the low down... Logan D's label continues to operative and thrive at the forefront of jump up D&B with this epic anniversary collection. Loaded with new versions, upfront material and unreleased classics, it's a fittingly fresh and excitable package for a label with such tenure. Highlights include Voltage's curmudgeonly remix of Serum's 'Up In Smoke', the never-ending legacy of Dominator with the previously unreleased 'Outta Control', brand new badness from Slipz in the form of 'Badman' and timeless rawness from Heist with 'Bravado'. And that's just the tip of the iceberg.
TL: 15 / 1:03:50
• Majistrate — Bombaclart (Turno Remix) 3:10
• Jeopardize — Old Monk 4:37
• Serum — Up In Smoke (Voltage Remix) 4:28
• Ego Trippin — Mono Bleep 4:32
• Majistrate — Inside (2021 Remix) 4:05
• Dominator — Outta Control 4:29
• Magenta — Shoot Them 4:35
• Ego Trippin — Thrill Seekers (Serum Remix) 3:02
• Slipz — Badman 4:26
• Dominator & Logan D — Hooligan (Skore Remix) 4:29
• Heist — Bravado 4:55
• Logan D — Snake 4:29
• Dominator — History Making (Filthy Habits) 3:44
• INFRARED — Cicada 4:24
• Serum & Voltage — Cricket Bat (VIP) 4:32
Interview
Hi guys, Thanks for taking the time to talk to us today! First of all, can you tell us a little background about the label? Who the people were who first start LDD and what were your goals or aspirations when first starting off?
The label was started off by Logan D in 2006, the main reason for Logan starting the label was so he could gain access to tracks which nobody else had. The meaning of Low Down Deep is underground, it has always set out to be an underground label within the music scene. The aspiration and goals from Logan D and the label were to cement a place within the Drum & Bass scene which both have gone on to do over the years.
15 years is a long time to run a successful record label, how do you think the D&B scene has changed since you first started off?
Drum & Bass has grown massively in the last 15 years. It has gone from strength to strength in both the underground and commercial scene. Drum & Bass has also spread into many more countries in recent years. New Zealand, Belgium, Australia, Spain, Austria & Czech Republic are a handful of countries that have been very popular with our label sound within the past 15 years.
With nearly 200 releases under your belt you must have some absolute bangers that are always guaranteed to please a crowd and get people dancing. Can you share a few of your all-time favourites with us?
"There was a time when I could name every track on every release from around catalogue numbers LDDR 001 - LDDR 050, now my head is scrambled with the number of tracks we have released" - Logan D
I am guaranteed to miss some out, so I apologise in advance, but here are some of our finest tracks so far:
Majistrate - Bombaclart
Logan D & Dominator - Giant Killa Bees
Serum & Voltage - Don't Know Why
Heist - Moose Knuckle
Pleasure - Venger
Majistrate - Pick Em Out
Serum - Fly Paper
Dominator & Turno - Bomb Squad
Upgrade - Trigga Finga
Juno Download Guest Mix - Logan D 15 (Low Down Deep Recordings)
Can you tell us a little bit about the 15 years of Low Down Deep compilation? Can we expect the pinnacle of LDDs roster to appear?
We wanted 15 tracks on this compilation for obvious reasons, we also wanted to include as many artists from our 15-year journey as possible. We are really pleased with the final track list and feel this album will not disappoint our loyal fanbase. In our opinion, this is our best compilation to date with some of our biggest artists but also showcasing some of our freshest talent.
Will there be any shows to mark the occasion?
Yes, there certainly will. We have a 15-year tour planned with the 1st event already gone ahead in Bournemouth. We also have confirmed events in London, Bristol, Southampton, Northampton, Nottingham, Birmingham, Cardiff plus more TBC.
What else do you have planned for the future, 2022 and beyond?
We may be 15 years in, but it feels like the LDD story still has many more chapters waiting to be written as we continue to work with some of the biggest household names in the D&B scene, alongside some of the freshest. Expect big developments from us in 2022, our release schedule is already looking mouth-watering. But for now, you're invited to enjoy our 15th birthday celebration!
Dead Link? (REPORT 1-5 Days) сообщить о ссылке на перезалив
Download albums, EPs, LPs & Compilations music.