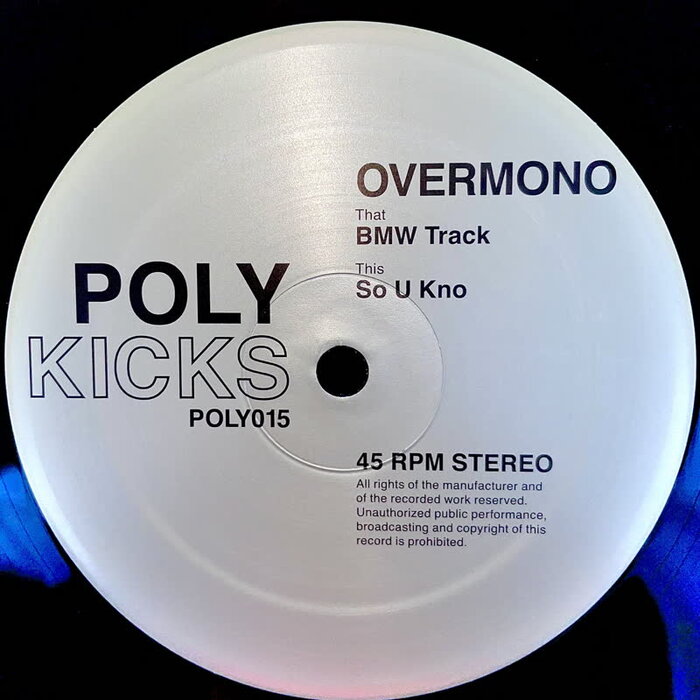 Music/Style
Electronic, Future Jungle, Breakbeat, Uk Garage
Release
20/06/2021
Quality
320 kbps MP3
Imprint
Poly Kicks
Nr#
POLY 015As always with Poly Kicks, they have delivered a tasty pair of treats on this latest drop from Overmono, exploring the more experimental end of the breakbeat spectrum with some serious style. We kick off with 'BMW Track', a potent bubbler composed of sweeping sub drones and flickering drum chugs, constantly evolving with little additional rhythmic features but never lowering its intensity. On the flip, the stunning swirling atmospheric pads of 'So U Kno' take us down a different route entirely, although still engulfed in gorgeous percussive flavour throughout. The EP as a whole is nothing short of stunning!
• Overmono — BMW Track 7:24
• Overmono — So U Kno 5:44
Дуэт Overmono возвращается на лейбл Poly Kicks с разрывным релизом "BMW Track/So U Kno". Пластинка представляет собой 12 минут мощных ритмов, отдающих дань наследию их студии, расположенной на юго-востоке Лондона, ставшей по-настоящему культовым местом для пионеров брейкбит-движения.
Заглавный трек релиза "BMW Track" - бэнгер из мира брейкбит-музыки и новой школы джангла. Легко представить, как бы он звучал в подпольных клубах Британии на ранних порах формирования жанра. Однако трек "So U Kno" более холёный и сексуальный. В него впитался дух британского гериджа с его неповторимым и отличительным грувом.
Несмотря на некую преемственность треков в релизе, он прекрасно демонстрирует всю его полноту и особенно фирменный стиль Overmono, который сложно спутать с чьим-либо другим.
Dead Link? (REPORT 1-5 Days) сообщить о ссылке на перезалив
Download albums, EPs, LPs & Compilations music.