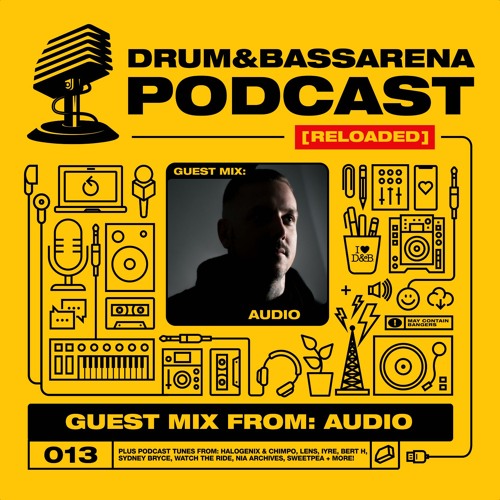 Style
Drum and Bass
Date
27/05/2022
HQ
MP3 128 kbps
Label
Drum&BassArena
Zippy
103 MbEine weitere kräftige Ausgabe unseres Podcasts ist erschienen – mit Exklusivtiteln von Halogenix, Chimpo, Lens, IYRE und vielen mehr, mit Audio an der Steuerung für einen besonderen Gastmix, der seine neueste Single "Tiptop" feiert.
tracklist
Apparition — Regret [Pilot]
Nelver & pyxis — Gravity [Pilot]
Invadhertz — First Sight [Guidance Music]
IYRE — Light of Hope (ft. Breezy Lee) [Goldfat Records]
OB — Mistakes [Precinct]
Bert H — Beauty of the Opposite (ft. Sydney Bryce) [Goldfat Records]
Artsea — Passing Through [Goldfat Records]
Foreign Concept — Snaresbrook [Critical Music]
Sweetpea — Munka [Sofa Sound]
Calibre — Verstat [Critical Music]
Halogenix & Chimpo — Techy [Critical Music]
Alibi & Dunk — Rockers [V Recordings]
Kursiva — Reprotechniks [DEM Recordings]
Framer — Tangled Shore (Amoss Remix) [Ekou Recordings]
Submotive — Kodiak [Inspected]
Noisia & Black Sun Empire — Caps Lock [Vision]
Billain & Kemal — Cosmic Gate [Renraku]
Benny L & Shady Novelle — Alchemy [TrES 2b Music]
Workforce — Reintegration [Must Make]
Voltage & Shy FX — Amazing (ft. Agent Sasco) [Digital Soundboy]
Kid Drama — Always [CNVX London]
Metrodome — Lover 2Nite [1985 Music]
Charla Green — Riddim Bizniss (ft. Digital) [Function Records]
Audio — Tiptop [Drum&BassArena]
Watch the Ride x Nia Archives — Mash Up the Dance [Rinse]
Lens — Feels Like [Spearhead Records]
Zero T & Onj — Some Type of Way (ft. Terrell King) [The North Quarter]
mix uploaded on free exchange.
Dead Link? (REPORT 1-5 Days) сообщить о ссылке на перезалив
Download albums, EPs, LPs & Compilations music.