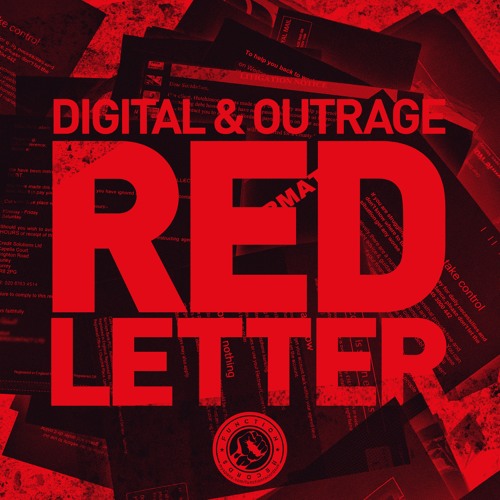 Style
Drum and Bass, Jungle
Quality
MP3 320 kbps
Date
7/10/2016
Label
Nomine Sound
Format
Album
LTD CD Re-release of the 2009 Red Letter album from Digital & Outrage (aka Nomine) including some remixes by Rene La Vice, SPY and Technical Itch. To buff things up there are a couple of unreleased track from Nomine (Outrage) & Digital).• digital and outrage - stay (unreleased by digital) 6:04
• digital and outrage - daydream (by digital, outrage & julian clay) 5:20
• digital and outrage - the script 5:35
• digital and outrage - stand firm 5:23
• digital and outrage - veta 4:50
• digital and outrage - chromatic 5:18
• digital and outrage - hero 6:19
• digital and outrage - get over it 6:20
• digital and outrage - armshouse (tech itch remix) 8:13
• digital and outrage - final demand (spy remix) 5:39
• digital and outrage - who am i (unreleased, by outrage) 5:35
• digital and outrage - red letter 6:03
• digital and outrage - snowballs 6:12
• digital and outrage - armshouse (by outrage) 5:53
• digital and outrage - final demand 6:04
• digital and outrage - pinch 6:07
• digital and outrage - sensor 5:32
• digital and outrage - jigga jaw 5:33
18 / 1:46:00
online
Digital & Outrage present: Red Letter
As hard times hit it has become increasingly difficult to see a light at the end of the tunnel for many an artist, but out of the darkness and diversity of the current world climate comes 'Red Letter'; the stunning debut album collaboration of two boundless imaginations – Digital & Outrage. This meeting between two of DnB's highly respected and seasoned producer/DJ's has delivered a work of undeniable quality that's no surprise given their individual merits throughout the industry.
As Digital embarks on his second collaborative LP project he is renowned worldwide for his signature sound, fusing heavily dubbed-out heinous basslines & mutating radicalized beats. His production ability revives every essence that is true to DnB with an unquestionable uphonious back-catalogue of singles including 'SpaceFunk', 'Waterhouse Dub', 'Phantom Force', 'Gateman' and the mighty 'Deadline' to name but a few! Not forgetting his phenomenal debut LP 'Dubzilla' (2002) and his most recent collaborative LP project 'Phoenix Rising' (2007), both released on his imprint Function Records. Digital's sound has spanned the four corners of our globe & has featured at some the world's best festivals & club events including; Dance Valley Festival (Amsterdam,NL), Phat (NZ), Creamfields (UK), Global Gathering (UK), Homelands (UK), Heaven (UK), Fabric (UK), Ministry of Sound (UK), The End Club (UK), Metalheadz, Hospitality, Renegade Hardware as well as touring North & South America, Canada, Japan, New Zealand.
A strong purveyor of the deeper, darker, more abstract sounds, Outrage honed his unique talent from an early age on future thinking labels such as Metalheadz, Inneractive, Intasound, Commercial Suicide, Fuze, Basement Records, Proper Talent, L Plates and imprint Backlash. Showcasing his vigorous dance-floor sets across the globe at such iconic festivals as Berlin's famous Love Parade, Hungary's Sziget Festival and New Zealand's PHAT Festival has afforded Outrage the reputation of a truly experimental DJ/Producer and now live performer through his Ableton Live PA sets; debut at Amsterdam's Ichione/Subversive Renaissance. Outrage takes his crowd on an emotional journey through fluxes of diligent breakbeats and fervent bass lines every time.
As innovators in every sense, both artists have also played a huge part in the re-invention of Jungle Tekno, releasing a particularly dark collaboration on J-Tek Records, entitled 'Made In England'. A sound once drowned out by the fast paced musical progression of the early 90's is now seeing its day, so watch out for a string of releases from both Digital and Outrage as they stamp their mark on New Skool Jungle Tenno.
'Red Letter' Digital & Outrage's salute to the times ... takes its listener through cavernous atmospherics and immeasurable bass lines (,Snowballs'), deep tribal drum patterns & trance inducing vocal chants (,Armshouse' & 'Influence'), neurotic breakbeats accompanied by weighty stabs and obscure samples ('Jigga Jaw' & 'Get Over It,) and a selection of jazz infused rollers to smooth the mood (,Veta' & 'The Script'). Hints of DnB nostalgia can be found throughout the LP that stand as testament to years of service as such diverse artists. Their intuitive knowledge and experience combined has clearly culminated in a magnitude of ideas and inspiration in the studio that has brought true DnB to the forefront of the scene once again.
Edited: adminReason: donate for re-up!
Dead Link? (REPORT 1-5 Days) сообщить о ссылке на перезалив
Download albums, EPs, LPs & Compilations music.