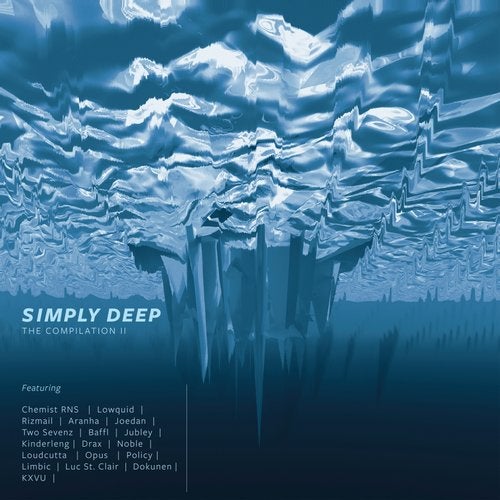 Genre
Bass, Deep-Dubstep, Instrumental Grime
Released
25/07/2017
Quality
mp3:320 kbps
Label
Simply Deep
Cat
SDC002
Type
Compilation17 / 1:18:09
Dokunen — Kannelfornian Denzelit (Original Mix) 4:22
Two Sevenz — All The Time (Original Mix) 4:22
Joedan — Falling (Original Mix) 4:06
Limbic — Beef (Original Mix) 2:46
Lowquid — Bulbasaur (Original Mix) 4:21
Rizmail — Trippin (Original Mix) 3:36
Chemist RNS — Clubbin (Original Mix) 6:02
Noble — Nights (Original Mix) 4:02
Policy — Wet Patch (Original Mix) 3:03
Drax — Brain Tumor (Original Mix) 5:10
KXVU — Peak For You (Original Mix) 4:34
Aranha — Contamination (Original Mix) 5:05
Jubley — Free You (Original Mix) 6:50
Opus, Loudcutta — Travella (Original Mix) 4:37
Kinderleng — Helerin (Original Mix) 5:08
Luc St. Clair — Randy Savage (Original Mix) 4:24
Baffl — Go Wet (Original Mix) 5:40
online
We are very excited to present you all with the second official label compilation from the Simply Deep camp. Since our last compilation our family has grown in both size and stature and we are super excited to introduce you to the new faces amongst the ranks. This 18 track project showcases the full breadth of the Simply Deep pallet, featuring rapid fire grime instrumentals, mega-techy 4x4, heavyweight dubstep creations and more. Highlights from the release include the super wavey styles of Drax's 'Brain Tumor', the hard hitting dubwise styles of 'Contamination' from Aranha and an extremely potent collaboration from Loudcutta & Opus which goes by the name of 'Travella'. Being able to keep variety whilst maintaining cohesion is a balance a lot of newer labels tend to struggle with, but 'The Compilation Vol. 2' shows that SImply Deep aren't just any label. This LP is a definite statement of intent, showing that as a label they can go toe to toe with the best, both in their selection and roster.
Dead Link? (REPORT 1-5 Days) сообщить о ссылке на перезалив
Download albums, EPs, LPs & Compilations music.