FRESH BASS RELEASES

»

Dubstep

» Midnight Tyrannosaurus - Midnight Snacks Vol. 1 The Sweet Tooth Remixes LP 2015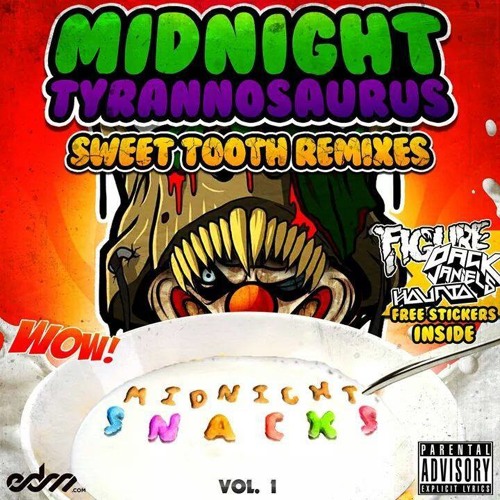 Style
Dubstep, Riddim, DeathStep, Glitch Hop
Released
29/07/2015
Format
MP3,320kbps
Label
Independent
Type
Album1.Midnight Tyrannosaurus — Calypso Radio 00:56
2.Midnight Tyrannosaurus — Welcome to War 01:36
3.Midnight Tyrannosaurus — The One From Dark (London Nebel Remix) 04:25
4.Midnight Tyrannosaurus — Marshland Marauder (Ponicz Remix) 05:44
5.Midnight Tyrannosaurus — Soul Scraper (Samplifire Remix) 04:20
6.Midnight Tyrannosaurus — The Man With The Strange Ring (Code Pandorum Remix) 04:48
7.Midnight Tyrannosaurus — Welcome to Black Rock 00:27
8.Midnight Tyrannosaurus — Attack of the Giant Leeches (Figure Remix) 05:22
9.Midnight Tyrannosaurus — Deathmatch (Obey Remix) 04:19
10.Midnight Tyrannosaurus — The Old Game (Spag Heddy Remix) 03:07
11.Midnight Tyrannosaurus — Revenge of The Meta Knight (The Frim Remix) 04:06
12.Midnight Tyrannosaurus — Pillow Talk (Nostalgia Remix) 04:13
13.Midnight Tyrannosaurus — A Very Calypso Christmas 00:46
14.Midnight Tyrannosaurus — Deathmatch (Krimer Remix) 03:29
15.Midnight Tyrannosaurus — The Good, The Bad & The Gecko (Axel Boy Remix) 04:21
16.Midnight Tyrannosaurus — The Scream Squad (Dack Janiels Remix) 04:00
17.Midnight Tyrannosaurus — Deathmatch (Haunta Remix) 04:20
18.Midnight Tyrannosaurus — Welcome to Watkins Harbor 00:26
19.Midnight Tyrannosaurus — H.A.L. (Uber Remix) 04:06
20.Midnight Tyrannosaurus — The Scream Squad (XaeboR Remix) 05:18
21.Midnight Tyrannosaurus — Headzipper (Creation Remix) 04:37
22.Midnight Tyrannosaurus — Bunny Bass (Wikidill Remix) 03:50
23.Midnight Tyrannosaurus — The Statue Planet Scandal! (JAM P R D Remix) 05:12
24.Midnight Tyrannosaurus — Moonajuana (P0gman Remix) 03:08
25.Midnight Tyrannosaurus — Basement Bitches (Phiso Remix) 03:46
26.Midnight Tyrannosaurus — The One From Dark (VIP) 04:53
27.Midnight Tyrannosaurus — Welcome to The End 01:51
Online
At long last the Midnight Snacks Vol 1: Sweet Tooth Remixes is unleashed! I hope you enjoy this as much as all of us enjoyed putting this together <3 this was a massive team effort and I'm beyond happy to see it actually happen! Much love to ALL of the listeners, and be sure to hit the "HIT ME FOR SWEETS" (the buy link) for a download of THE ENTIRE 27 TRACK ALBUM or check the link below. Thank you so much for being such loyal and incredible fans <3 and lets start building hype for Midnight Snacks Vol 2!
Dead Link? (REPORT 1-5 Days) сообщить о ссылке на перезалив
Download more music.