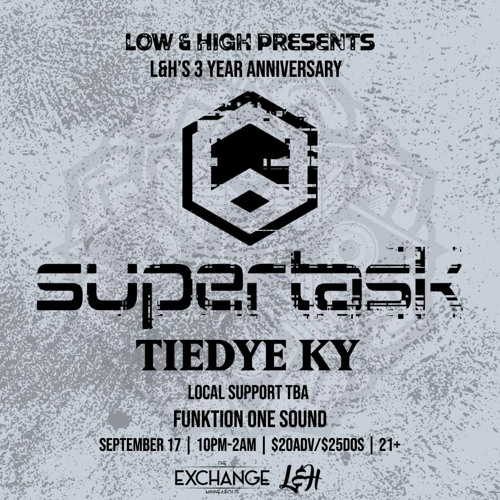 Style
Dubstep, Deep Dubstep
Release
3/11/2021
Quality
320 kbps MP3
Imprint
Low & High• Saint Sinner, Supertask — Get to You 4:02
• Deerskin — Adrift 4:36
• Eastwood Red — Demons 2:31
• Tree Sap — The Few 3:21
• TRiP B — Diamonds (Single) 2:36
• Whaley — BYGN 3:24
• Supertask — Healing 5:53
• Xxxtentacion, Trippie Redd — Fuck Love 2:27
• Brandy Ho — Save the Earth 4:53
• Supertask, Charlesthefirst — Borealis 2:50
• Chynna — The Conversation 3:20
• Charlesthefirst, Tiedye Ky — Love & Enemies 3:25
• Tiedye Ky, Pipus — Pipus and Wine/Life on a Loop 4:22
• Supertask — Terms 2:18
• Sepultura — Altered State 6:35
• Morning Jazz Cafe — Other Beautiful Memory 2:06
• Lab Group, Supertask, Hawk. — Old Ways 2:59
• Supertask, Ill Chill — Underclock 3:26
• Supertask — Connection 6:44
• Lab Group, Tiedye Ky, Potions — Space For Me 2:12
• Billy Ocean — Loverboy 4:10
• Simian Mobile Disco — Sleep Deprivation 5:00
• Tiedye Ky — Never Cage a Butterfly 3:18
• Supertask, Seeded Vision — Architecture 2:52
• $uicideboy$ — Phantom Menace 2:23
• Mogli — Earth 3:25
• Tiedye Ky — Alternate Reality (3035) 3:28
• Village Of The Smoke, Drew Mills, Jhalil De Veaux — Air Force 2:58
• Gary Wright — Dream Weaver 4:17
• G-space, Tiedye Ky, Pipus — Space Cowboys 5:07
• Tiedye Ky — Hit Em From The Top Rope 2:54
• Kanye West — Frank's Track 0:39
• Soulspell — Horus's Eye (Live) 5:40
• Kid Ink, Wale, Rich Homie Quan — Ride Out 3:32
• Regina Spektor — Fidelity 3:48
• Pon2mik, Lyrrix — Freestyle Drill Vol 1 3:11
• Sam Cardon, David Arkenstone — Enmity 6:03
• Yardin Beats — Base de rap sad lofi (Nieve) 3:09
• Keina Suda — veil 3:30
• Low & High — ALX HMND - Dark Matter 3:48
• AVRY — AVRY - Extra SaucE 3:40
• AVRY — TechThug 3:45
• AVRY — Waiting For You 3:22
• CharlestheFirst, Supertask — Work While You Talk 3:14
• DVVP x Tradia x Triplaw — Omnispex 4:14
• Homemade Spaceship x AVRY — Big Money 3:25
• ALX HMND — Keep It Jumping 3:21
• Dublink — Depth 3:49
• Hedawn — Bounce 2:33
• Hexxum — Skraight Up 3:16
• Mastuh x Solfire — Battle Royale 2:40
• SubOcybin — Truth and Reconciliation 3:43
• Whaley x ALX HMND — Let's Go 3:47
53 / 3:11:32
Supertask
- 1/3 of The Lab Group w/ CharlestheFirst & Potions. Based out of Oregon. With the perfect blend of heavy and calm, engaging and introspective, danceable and meditative, Supertask reminds usof a side of bass music often overlooked, but frequently desired.
Supertask has been billed as
direct support for: Charlesthefirst, Thriftworks, Clozee, Eastghost, Sorrow, Goopsteppa, Attya, Psymbionic, Gladkill, Bogtrotter, Phaeleh and The Polish Ambassador to name a few, as well as
many headlining shows of his own. Recently coming off a nationwide tour with Charlesthefirst, Sorrow, Goopsteppa and Potions, Supertask is eager to reach more people with his music.
Tiedy Ky
- Making waves of diverse colors and sounds, Tiedye Ky explores many different experimental genres of electronic music. Most known for his wizardry in the studio, conjuring an organic sound, Tiedye Ky is a well known name in the music scene of his home city of Philadelphia. Synthesizing analog sounds and textures varying from wavy melodic pads to deep distorted bass, tiedye ky's beats are turning the heads of those in search of an original sound.
In 2019, tiedye ky saw his career grow with performances at festivals such as Yonderville, the FriendShip, Camp Bisco, Wakaan, Dirtybird Campout, and Okeechobee.
In 2020, tiedye ky started the year with a bang, playing a nationwide tour with the likes of Tsuruda, ONHELL, Charlesthefirst, and others. As bookings were soon halted by worldwide COVID-19 shutdowns, tiedye ky shifted his focus to finishing his newest album. With the release of "Baby Blue and the Super Moon" in September, tiedye ky continues to push the boundaries of traditional bass music and assert himself as a unique voice within the industry.
Dead Link? (REPORT 1-5 Days) сообщить о ссылке на перезалив
Download albums, EPs, LPs & Compilations music.