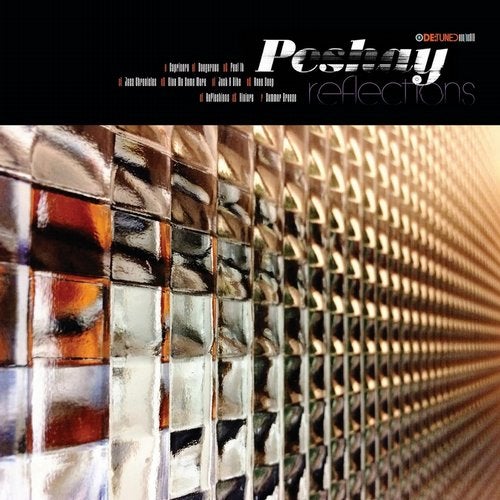 Style:
Drum and Bass, Jazzstep, Jungle
Quality:
mp3/320 kbps +[Flac/Lossless]
Release:
11-06-2018
Label:
De:tuned
Nr:
ASGDE019
Крайне внезапное возвращение одного из старичков атмосферного драм-эн-бейса из тусовки Good Looking Organization, которую мы не так давно вспоминали. Пол Пэс в начале и середины 90-ых шумел на британской сцене, выпуская свои пластинки кажется на всех значимых лейблах: в его активе релизы на Reinforced Records, Metalheadz, Moving Shadow, Brain Records, Mo'Wax и еще десятке других. Последние несколько лет Пол особо о себе не напоминал. Были цифровые релизы разной степени качества в цифровом виде и 4 года назад даунтемповый альбом на Tru Thoughts, прошедший мимо всех, как кажется.
«Reflections» также не предвещал ничего хорошего, обычно подобные возвращения ничем хорошим не заканчиваются. Но Peshay либо решил тряхнуть стариной, либо достал с антресолей пыльную коробку со старыми дабками. Звучит пластинка очень сочно и винтажно, как и должен звучать привет из золотой эры британского драм-эн-бейса. Соул, джазовые семплы, жаркий грув, — Пол доставил неподдельное удовольствие всем, кто скучал по тем-самым временам и знает не понаслышке, что такое sour, XTC или DEF.
Tracklist
1. Peshay - Capricorn
2. Peshay - Dangerous
3. Peshay - Feel It
4. Peshay - Jazz Chronicles
5. Peshay - Give Me Some More
6. Peshay - Just a Vibe
7. Peshay - Knee Deep
8. Peshay - Reflections
9. Peshay - Riviera
10. Peshay - Summer Breeze
Online
De:tuned proudly presents the return of one of the UK's pioneering drum & bass producers, Peshay. `Reflections is Peshay's first new drum & bass album in more than 10 years that looks back while pressing forward. Jazzy and acoustic flavours combined with deep bass and rolling drums will have you grooving from the get go. It's that classic fusion sound that Peshay does so well, fully updated for present times and 100%% future proof. The accompanying cover and label art was designed by Openmind (aka Strictly Kev, DJ Food, Ninja Tune) and captures the warm and funky vibes perfectly. The tracks have been mastered by Matt Colton at Alchemy Mastering to ensure the highest playback quality. This album will be available as a triple 12" pressed on 180 gr vinyl. A separate digital release will also be available from the usual digital shops. Paul, it's been an honour and a real pleasure working with you. Stay Tuned!
Dead Link? (REPORT 1-5 Days) сообщить о ссылке на перезалив
Download albums, EPs, LPs & Compilations music.