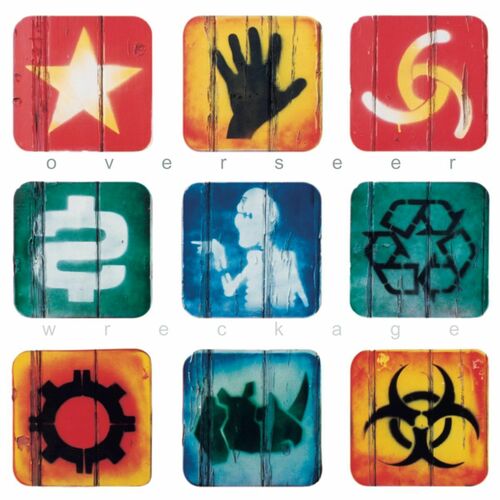 Style
Big-Beat, Breakbeat, Downtempo, Hip Hop
Released
26/08/2003
Quality
MP3:320 kbps | FLAC
Label
Columbia
Nr
CK63806
Type
Album/CD
TL:12 / 1:16:35
• Overseer — Slayed (Album Version) 4:48
• Overseer — Stompbox (Edit) 3:53
• Overseer — Supermoves (Album Version) 4:47
• Overseer — Velocity Shift (LP Version) 2:09
• Overseer — Horndog (Album Version) 3:30
• Overseer — Meteorology (Album Version) 5:32
• Overseer — Aquaplane (Album Version) 5:13
• Overseer — Doomsday (Album Version) 3:14
• Overseer — Basstrap (Edit Album Version) 4:00
• Overseer — Sparks (Album Version) 6:03
• Overseer — Never (Album Version) 6:29
• Overseer — Heligoland (Album Version) 26:57
Тинейджером он играл в школьных ансамблях, одевался во все черное и поклонялся группам The Cure, Smiths, Pixies и Sisters of Mercy. После того, как он услышал команды Pop Will Eat Itself, Public Enemy и первый альбом рэп-группы A Tribe Called Quest, он влюбился в электронную музыку и рэп.
Тем временем, его брат привил ему любовь к британскому хеви-металлу и в 1995 году - два стиля перемешались в голове Роба и вылились в его музыку. Также влияние на него оказали его фавориты в музыке: Neil Young, Frank Sinatra и Radiohead. «В моей танцевальной музыке всегда присутствует рок-элемент» говорит Overseer. «Мой брат слушал AC/DC и Motorhead и меня заразил. Для создания колбасного трека просто необходимы гитарные сэмплы!»
Однажды Overseer попробовал себя в написании музыки, выпустил две indie EPs — «The Zeptastic» (1996) и «Hit The Tarmac» (1998) — и начал получать рэйв-обзоры (включая большую двух колоночную статью от Norman «Fatboy Slim» Cook`а). После того, как Роб поиграл диджеем и выступив около 25 раз с концертами по Обьединенному Королевству, Overseer стал сотрудничать с Columbia Records. Работая в своей оборудованной в подвале студии, Роб писал трэки для альбома «Wreckage», которые продвигал его друг, резидент Dave Creffield, про которого Overseers говорит: «К нему я всегда могу обратиться и спросить не слишком ли я далеко зашел в сочинении той или иной песни».
Он написал музыку к трэйлеру Матрицы-Перезагрузки (The Matrix Reloaded) и к рекламе на Super Bowl Sunday, к «Аниматрице» («Animatrix»).
Трек «Supermoves» (наверно самое известное произведение) известен тем, что являлся саундтреком к фильму Snatch.
26 августа 2003 года вышел дебютный альбом Overseer «Wreckage».
Dead Link? (REPORT 1-5 Days) сообщить о ссылке на перезалив
Download albums, EPs, LPs & Compilations music.