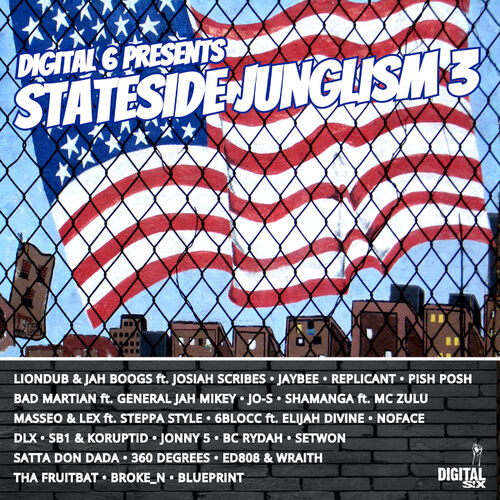 Music/Style
Drum and Bass, Jungle
Released
25/10/2019
Quality
320 kbps MP3 |
FLAC
Label
Digital 6
Nr
D6075
Type
Compilation• 6Blocc, Elijah Divine — Bad (feat. Elijah Divine) 4:52
• 360 Degrees — Square Sense 5:46
• Bad Martian — Space Race (feat. General Jah Mikey) 4:11
• BC Rydah — Machete 4:00
• Blueprint — Run It Back 4:22
• Broke-N — Jazz of the Funk 5:14
• Dlx — Lunarly 3:24
• Jaybee — Let Your Feet Stomp 4:51
• Jo-S — Dem Dun Know 3:38
• Jonny 5 — Ice 4:11
• Liondub — The Scope (feat. Jah Boogs & Josiah Scribes) 4:28
• Masseo — Step Outside (feat. Mista Lex & Steppa Style) 6:57
• NoFace — Love TKO (VIP Mix) 5:01
• Pish Posh — Championship 4:07
• Replicant — All Yours 2019 3:27
• Satta Don Dada — Rocket Launcha 4:06
• SB1 — Urban Decay (feat. Koruptid) 5:10
• Setwon — Stateside Rumble 6:40
• Shamanga — Murda Music (feat. MC Zulu) 4:54
• Tha Fruitbat — Alarm Sound 3:05
• Ed 808, Wraith — Zangief (feat. wraith) 5:20
Digital 6 are doing us all a favour with this release, simply because the big old US of A desperately needs more representation in a scene that is dominated by the European players. Although this is obviously in part because the USA has less D&B fans, the more American music in play the faster this is likely to change. Stateside Junglism 3 is a jungle heavy, breaksy release that doesn't take many prisoners. 'Murda Music' by Shamanga, featuring MC Zulu, is a perfect example of this, as his vocals lead you in with a distinctive reggae tone before a broken drop emanates with some serious force, subterranean wobbles abound and it's an all-round moody listen. The rest of the LP is just as strong - big up the Atlantic crew!
Dead Link? (REPORT 1-5 Days) сообщить о ссылке на перезалив
Download albums, EPs, LPs & Compilations music.