FREE DOWNLOAD MP3 TORRENT

»

FLAC

» B-Say - The Pact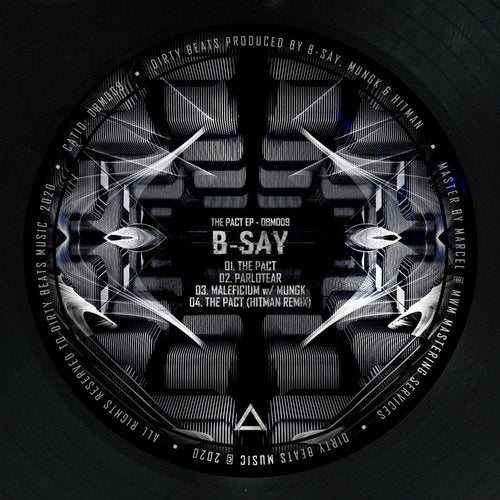 Music
Deep Dubstep
Released
27/03/2020
Format
MP3,320kbps +[Flac/Lossless]
Label
Dirty Beats Music
Nr
DBM009
B-Say marks the first DIRTY BEATS release of 2020 with a 4-track EP featuring a collaboration with Mungk and a remix treatment of the title track signed by Hitman. Marking the end of a decade, 2020 brings much darkness with itself. Brewing in the depts of the underground, advancing further and further into completion, the prophecy of 'The Pact' comes closer with every passing day. Conspiracies arise from every corner of the Underworld, demons speculating what this so-called pact might have in store for them, and us, the living. Yet every rumour that arises is just a 'Parlotear' as no one, except the few chosen ones, can fathom the unimaginable power of the 'Maleficium' to come. And if that was not enough, soon after the fullfillment of the pact a new one will arise from its ashes, reborn like a phoenix, yet more powerful and destructive, baring the name of its creator - Hitman.B-say — The Pact 4:35
B-say — Parlotear 3:49
B-say / Mungk — Maleficium 4:41
B-say — The Pact (Hitman Remix) 4:37
itunes
It's always exciting to see new music land from the Dirty Beats Music team, who here employ the vibrant stylings of B-Say across four tracks of potent steppers heat. We begin our exploration with the grizzly bass designs and constantly evolving landscape of the title track 'The Pact', before then moving into the wonky percussive expressions and unusual synthesis of 'Parlotear'. Next, Mungk joins the party as more percussive leads are deployed within 'Maleficium', which combines multiple rhythmic lines with subtle yet spooky chord expansions and low sub melodies, before Hitman steps up with huge warbling rethink of 'The Pact' to round off proceedings.
Dead Link? (REPORT 1-5 Days) сообщить о ссылке на перезалив
Download albums, EPs, LPs & Compilations music.