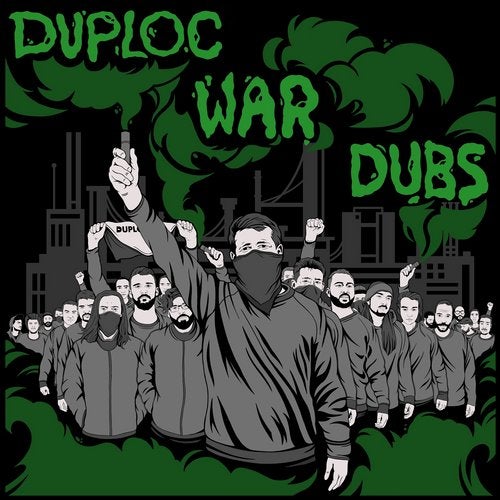 Music
Deep-Dubstep
Released
6/04/2020
Format
MP3,320kbps +[Flac/Lossless]
Label
DUPLOC
Nr
DUPLOCWAR2020
Type
Compilation1. Hebbe / Melle / Mr.K — Wayside (ENiGMA Dubz Remix) 5:03
2. Ternion Sound — Yellow & Grey (ColtCuts Remix) 4:24
3. ARtroniks — Shifted (Rygby Remix) 5:42
4. Juss B — Sandman (Ourman Remix) 4:10
5. Ternion Sound — Up Up (smith. Remix) 2:54
6. Noclu — Poseidon (Sam Cosmic Remix) 3:41
7. ENiGMA Dubz — The Eyes (Ternion Sound Remix) 4:44
8. Sbk. — One Man (Abstrakt Sonance Remix) 4:10
9. Requake — Fear (Beatsforbeaches Remix) 3:53
10. Ourman — Harpy (Drumterror Remix) 4:10
11. Ternion Sound — Up Up (Pushloop Remix) 3:46
12. Ghostek — Seek War (Dalek One Remix) 4:13
itunes
Today it has been exactly 5 years ago the platform duploc.com launched its record label DUPLOC. Fast forward to 2020, the Belgian brand has expanded to a full-fledged imprint with various vinyl records, a noteworthy 2-track digital series and a few strong compilation projects. To celebrate this milestone, 12 exclusive remixes are being unleashed through the "DUPLOC WAR DUBS" album featuring a few of the label's finest tracks from the past years.
With a total of 21 artists involved, DUPLOC residents like ENiGMA Dubz, Ternion Sound, Hebbe and Rygby of course had to be involved. However recent signees such as smith., Ourman, Drumterror and Sam Cosmic also contributed fresh remixes. Moreover, two new artists are being introduced, being remix master Pushloop and a hot upcoming talent from Brussels known as Beatsforbeaches. This project is DUPLOC's biggest one till date and sets the bar for the next 5 years to come.
Dead Link? (REPORT 1-5 Days) сообщить о ссылке на перезалив
Download albums, EPs, LPs & Compilations music.