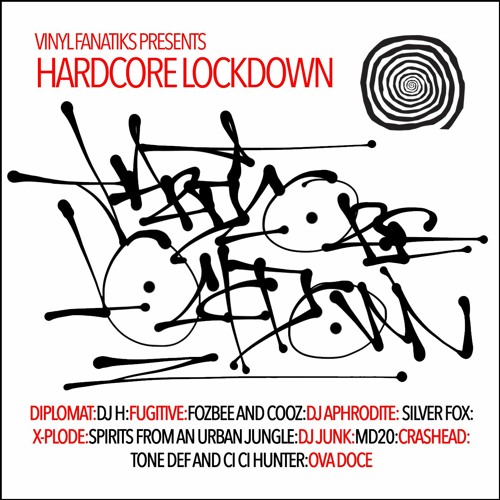 genre
Drum & Bass, Jungle, Breakbeat, Rave, Uk Hardcore, Atmospheric Jungle
released
18/05/2020
quality
mp3/320 kbps +[WAV/Lossless]
label
Vinyl Fanatiks
cat
VFS001LP
Type
CompilationOva Doce — It's The Wax 5:53
Tone Def & Ci Ci Hunter — You Got It 6:04
Crashead — Voidwalker 6:01
MD20 — Midnight Air 5:32
DJ Junk — What Have You Got To Lose 6:10
Spirits From An Urban Jungle — The Warning 5:17
X-Plode — Shock Out 5:03
Silver Fox — Gunman 4:43
DJ Aphrodite — Execute 4:27
Fozbee & Cooz — What's This World Coming To? 5:53
Fugitive — Dark Times 5:20
DJ H — Hold Tight 5:56
Diplomat — Check It 6:16
'Hardcore Lockdown' — The Diplomat Minimix - Vinyl Fanatiks 19:46
itunes
Hardcore Lockdown from Vinyl Fanatiks
As the gates closed on our freedom and the landscape of living in the UK changed beyond anything we had seen before, a team of hardcore fanatiks went into action; dusting off their studio gear, digging out their 90's sample libraries and getting into the hardcore zone.
Vinyl Fanatiks is a vinyl reissue label run by Brent Newitt, started in 2018. The sole purpose is to track down the artists of some of the collectable underground hardcore classics that were released on the many small, self-funded indie labels that scattered the UK 25+ years ago but have since vanished. Re-releasing the music is the easy part; it's finding the bloody artists that's the real mission!
But they can't hide forever. Not when you have sheer determination on your side and the tracking abilities of MI5. So, slowly but surely 'our guy' started picking them off one by one, using his network of contacts and informants built up over the past 30 years in the music industry. Six degrees of separation? Nah, not when you have been around as long as Brent. A few calls and he can track down nearly anyone.
And so the suggestion of a free download project was put to him six weeks ago at the start of lockdown by DJ H. "Why not do some tunes and give them away as a goodwill gesture to the fans of the label as a big thank you?" he said. But Brent doesn't like to do small gestures, so he contacted the artists on the label and told them the time had come. Their country needed them. This is more than just an old school comeback he told them, this is your national duty in a time of crisis. What would put a smile on the nations faces more than a fresh batch of hardcore that was totally free??? Nothing…absolutely nothing!!!
So here we are, 50+ days into Lockdown and the hardcore elite have gathered. DJ H, Diplomat, Aphrodite, Spirits From An Urban Jungle, Silver Fox, X-Plode, DJ Junk, Fugitive, Fozbee & Cooz, Ova Doce, Tone Def ft. Ci Ci Hunter, Fugitive, Crashead and even Brent got off his arse and hooked up with one of his oldest mates, Dave 'Mad Dog' Wallace and made a tune under the new moniker MD20.
So please go grab your free album, either as a WAV or MP3 zip, or if you prefer, just cherry pick the tracks you like. Once you have the music, share the link and the tunes with your mates, your family, your neighbours and your gran when you take over her lockdown shopping. This album is all about making people happy, shared with you with love from us.
Stay Safe… The Vinyl Fanatiks Crew!
Dead Link? (REPORT 1-5 Days) сообщить о ссылке на перезалив
Download more music.