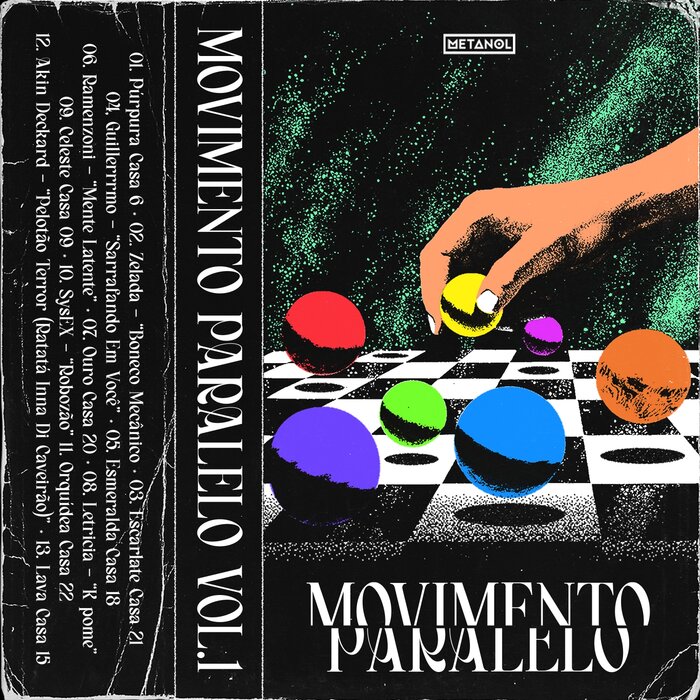 Style
Acid, Breakbeat, Electro, Techno
Released
21/05/2021
Quality
MP3 320 kbps | FLAC Lossless
Label
Metanol FM
Nr#
MTNL007
tracks
13 / 37:26
⦁ Dharma Jhaz & Guillerrrmo & Letricia Feat. Guillerrrmo & Letricia — Púrpura Casa 6 1:24
⦁ Zelada — Boneco Mecânico 4:14
⦁ Dharma Jhaz;Letricia — Escarlate Casa 21 0:54
⦁ Guillerrrmo — Sarrafando Em Você 4:09
⦁ Dharma Jhaz;Sysex — Esmeralda Casa 18 2:48
⦁ Ramenzoni — Mente Latente 4:20
⦁ Dharma Jhaz;Zelada — Ouro Casa 20 0:52
⦁ Letricia — K pome 4:19
⦁ Dharma Jhaz;Guillerrrmo — Celeste Casa 9 0:42
⦁ Sysex — Robozão 6:55
⦁ Dharma Jhaz;Ramenzoni — Orquídea Casa 22 1:20
⦁ Akin Deckard — Pelotão Terror (Ratata Inna Di Caveirão) 3:18
⦁ Dharma Jhaz & Akin Deckard & Ramenzoni Feat. Akin Deckard & Ramenzoni — Lava Casa 15 2:14
"Movimento Paralelo Vol.1" is the first installment of an ongoing compilation by the collective, multidisciplinary label and pioneer local online radio Metanol FM, walking through different music spectrums in remote collaborations – from jazz to acid, breakbeat, and ghettotech, crossing the paths of Brazilian funk, electro, and techno under an experimental narrative.
With 13 tracks between skits and authorial jams, "Movimento Paralelo Vol.1" was sculpted around solo sax sessions recorded by jazzist member Dharma Jhaz, and got remotely produced by the artists involved as an attempt to keep music inspiration alive in these lockdown times. The compilation brings an additional secret folder as part of its content, with original sample banks, music outtakes, subversive literature, a self-built drum rack for Ableton Live, and a video mix composed as a visual remix of the release. To unlock it, the listeners will need to crack the code inputted between the cover and track names.
At the same time, Metanol soon will be launching a related open-source music community focused on collective mentoring, sharing tools, and extended collaborations as a way to promote stimulus for independent artists on the path of their artistic journey. As they say, "this is our call-to-action for the future of the Brazilian electronic music scene", working together on the basis of discussing ideas to build a supportive network for unknown, unnoted, and upcoming artists.
Dead Link? (REPORT 1-5 Days) сообщить о ссылке на перезалив
Download more music.