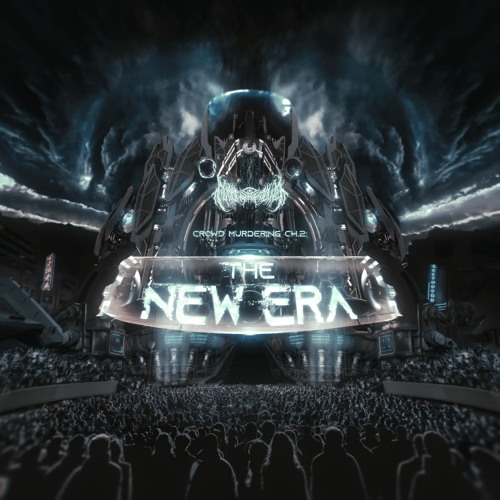 Style
Dubstep, Deathstep, Tearout, Heft, Midtempo, HybridBass, Synthwave
Release
2/07/2021
Quality
320 kbps MP3 | WAV Lossless
Label
Murder The Crowd
2121. Power over the planet belongs to a single world government, cruel and calculating. Human masses, united in giant metropolises surrounded by a dead wasteland, have finally lost their minds in the pursuit of satisfying their needs.
Every law-abiding citizen has every opportunity to fulfill all his desires, whose haven't gone beyond the material boundaries for a long time and can be satisfied with the simplest digital simulation. The world elite, which in the eyes of the masses has become a host of benefactor deities, who descended from heaven to save humanity from destruction, uses their subordinates as living force and sometimes as accessible biomaterial.
But the clouds have not yet closed up to the very end, one single ray of light is still alive - the Resistance Detachment, which gathered under its wing everyone who decided to abandon the intoxicating super-technological charm of consumption and try to open the eyes of all people to the reality around. The Detachment is gaining strength, growing and maturing; and soon the assault on the Panopticon's Blade - the center where most of the world's elite work and live - will begin. Soon the world will change once and for all. The New Era will come.
23 / 1:29:08
⦁ RUSHKID — E N T R Y 4:43
⦁ Sennago — Cyborgization 4:26
⦁ Alter Ego — Dimensional Dichotomy 4:51
⦁ Dark Hide — chton.exe 3:17
⦁ Mord Mora — Blade Runner 3:51
⦁ Kayrós, Dirty Religion — GTFU 3:51
⦁ Dread Unknown — Killdroids 3:24
⦁ Gridder — Flesher Smasher 3:26
⦁ Dirty Religion — Artificial 3:40
⦁ Pfista — Russian Sleep Experiment 3:29
⦁ Colossal — Fidgety 3:43
⦁ Crystalix — Puller 3:47
⦁ Baka Boy, Neptulon — Max Phantasm 4:29
⦁ Zetmo — Symerthu 3:20
⦁ YVUI — Whisper 3:02
⦁ CIVNIDE — AUDIODRUGSTORE 2:58
⦁ Klijin — Death Rate 3:06
⦁ Kayrós — Spaceship 4:15
⦁ Sourless, Glourre — Neon Fields 4:53
⦁ Noxtromo — CyberFish 4:56
⦁ MentalSplit — System Failure 2:34
⦁ WhiteNoiz, RCH — Cyberbulling 4:01
⦁ UBRMECH — Rise Up And Resist 5:17
2121 год. Власть над планетой принадлежит единому мировому правительству, жестокому и расчётливому. Людские массы, объединённые в гигантских мегаполисах, окружаемых мёртвой пустошью, окончательно потеряли рассудок в погоне за удовлетворением своих потребностей.
Каждый законопослушный гражданин имеет все возможности для исполнения всех своих желаний, которые уже давно не выходят за грани материального и могут быть удовлетворены простейшей цифровой симуляцией. Мировая элита, ставшая в глазах масс сонмом божеств-благодетелей, спустившихся с небес, чтобы спасти человечество от гибели, использует своих подчинённых как живую силу, а порой - как доступный биоматериал.
Но тучи ещё не сомкнулись до самого конца, ещё жив один единственный луч света - Отряд Сопротивления, собравший под своим крылом всех, кто решил отказаться от дурманящего сверхтехнологичного шарма потребления и попытаться раскрыть всем людям глаза на окружающую их реальность. Отряд набирает сил, растёт и зреет; и вот уже скоро начнётся штурм Лезвия Паноптикона - центра, в котором работает и проживает большинство представителей мировой элиты. Скоро мир изменится раз и навсегда. Наступит Новая Эра.
Dead Link? (REPORT 1-5 Days) сообщить о ссылке на перезалив
Download more music.