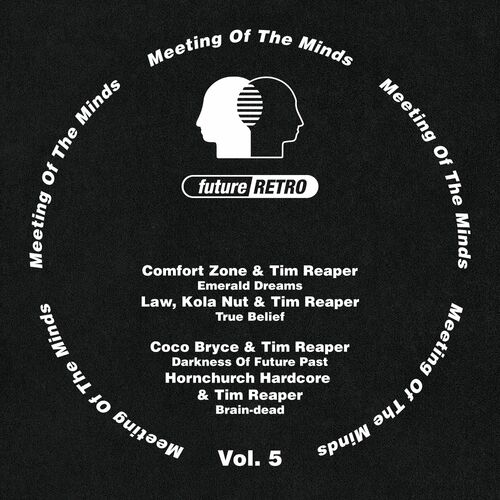 Style
Jungle, Drum and Bass, Atmospheric Jungle
Release
2/07/2021
Quality
320 kbps MP3 | FLAC Lossless
Label
Future Retro
Nr#
FRMOTM0051. Comfort Zone, Tim Reaper — Emerald Dreams 6:29
2. Law, Kola Nut, Tim Reaper — True Belief 6:24
3. Coco Bryce, Tim Reaper — Darkness of Future Past 5:53
4. Hornchurch Hardcore, Tim Reaper — Brain-dead 6:03
Back again after a long wait, Vol. 5 of Meeting Of The Minds is here, with another 4 collaborations done with producers from the modern day jungle scene.
The first tune on Vol. 5 is a collab I made with Comfort Zone, who I consider to be a hugely talented producer and what attracted me to him was his strong musical abilities and the really confident melodies in his tracks. I first found out about him through a tune of his called I Want U and it made me want to get in touch to see if he'd be interested in working on something together. That led to a tune called Greenscreen being made, which came out on an EP I did called More Lanterns, which was released on Repertoire and after that, we finished "Emerald Dreams" for this series, as well as a full EP for Banoffee Pies.
- Next up is "True Belief", made with Law & Kola Nut from Repertoire/R-Whites, who I also previously worked with on the same More Lanterns EP as Comfort Zone. I've known them both for a long time, having been Drum & Bass Arena forum regulars with them from the early 10s and having released music on Repertoire, which Law co-runs with Ben Repertoire. So it only feels fitting to return the favour and get them both involved in Future Retro London.
Coco Bryce & I go back a number of years, he's the only other person in the jungle scene I could say that releases more than I do in a year somehow! We did our first collaborative release called Tim & Coco's Pack Of Lies, which came out on his Myor label in 2018. Since then, we've remixed each other, played many gigs together, been on plenty of releases together but we haven't done any new collaborations. It was quite clear after starting the Meeting Of The Minds series that I had to get him onboard and "Darkness Of Future Past" is the result of a long overdue collaborative session.
- The final track on the release is called "Brain-dead" and it's a collaboration I made with Hornchurch Hardcore, who I met through a joint release I did with them on their label called Dark Age Recordings. What I like about their tunes is that they do dark in a different way to most, rather than going for scary/horror kind of style, they prefer a more mysterious/ominous style & they brought that vibe in our collaboration.
credits
released July 2, 2021
Emerald Dreams: written & produced by M. Aterman & E. Alloh
True Belief: written & produced by R. Law, G. Parkinson & E. Alloh
Darkness Of Future Past: written & produced by Y. Bego & E. Alloh
Brain-dead: written & produced by D. Munson, D. Smalley & E. Alloh
Dead Link? (REPORT 1-5 Days) сообщить о ссылке на перезалив
Download more music.