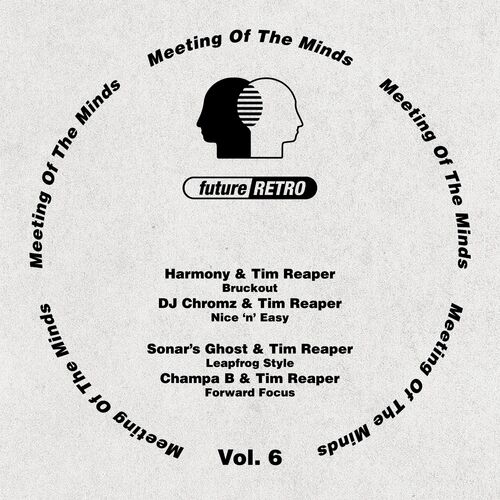 Style
Jungle, Drum and Bass, Atmospheric Jungle
Release
2/07/2021
Quality
320 kbps MP3 | FLAC Lossless
Label
Future Retro
Nr#
FRMOTM0061. Harmony x Tim Reaper — Bruckout 7:15
2. DJ Chromz x Tim Reaper — Nice 'n' Easy 5:20
3. Sonar's Ghost x Tim Reaper — Leapfrog Style 5:29
4. Champa B x Tim Reaper — Forward Focus 5:54
Vol. 6 of Meeting Of The Minds is here, with 4 more collaborations done with some of my favourite new jungle producers.
Harmony (fka DJ Harmony) is someone who I've known for well over a decade, starting off with identifying unknown tunes for him, then helping out here and there with his label Deep Jungle. He had releases with Xtreme on Lucky Spin & Section 5 in the 90s and also had some solo material on Moving Shadow before taking a break from production. Now that he's back on the case with making new jungle tunes, I was keen on working on a tune with him and "Bruckout" is what came together in the end.
The next tune is a collaboration I made with DJ Chromz, a jungle producer from Germany who I spotted on SoundCloud over a year or two ago, putting up some of his tunes, forthcoming on a label of his called Ruffneck Steps. I'd never seen any releases of it but he sent me a few tunes last year, with "Nice 'n' Easy" being one of those tunes and when I heard it, I knew I had to get involved in it. I'm looking forward to hearing more from him and seeing what more releases he's got in store for the near future.
"Leapfrog Style" is a track that I made in collaboration with Sonar's Ghost, who I've worked with before on releases for Phat Bubba, Foxy Jangle and 7th Storey Projects, on the Globex Corp series of releases. He was part of a duo called Sonar Circle in the 90s-00s that had releases on Reinforced & he was also doing broken beat tunes under his solo alias Domu, until he made his return to jungle/d&b under his current moniker. He always brings interesting samples and sounds to the table in his tunes and in our collabs & the approach he takes towards music making is always well thought out and considered.
The final track on Vol. 6 of Meeting Of The Minds is a tune I made with Champa B, who's responsible for one of my favourite hardcore EPs outside of the 90s, his EP on Modified Magic in 2015. "Forward Focus" is the result of what we worked together on, more inspired by the style he's pushed on his more atmospheric focused releases on Criterion.
credits
released July 2, 2021
Bruckout: written & produced by L. Bogush & E. Alloh
Nice 'n' Easy: written & produced by M. Woldag & E. Alloh
Leapfrog Style: written & produced by D. Stanton & E. Alloh
Forward Focus: written & produced by E. Wright & E. Alloh
Dead Link? (REPORT 1-5 Days) сообщить о ссылке на перезалив
Download more music.