FREE DOWNLOAD MP3 TORRENT

»

FLAC

» VA - Hyperboloid 2022 [HYPR095]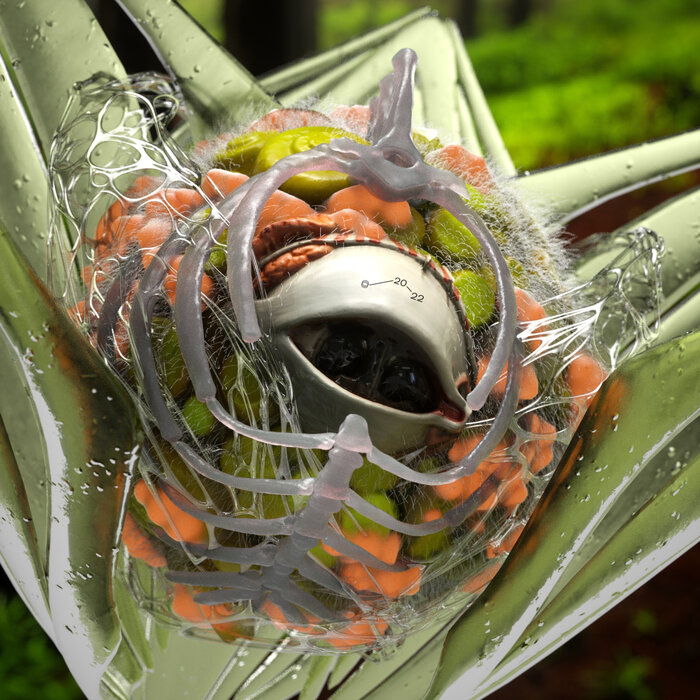 Music/Style
Electronic, Bass, Drum&Bass, Trap, Dubstep, Breaks, Jungle, Juke, Ambient, Techno, IDM
Release
1/01/2022
Quality
MP3:320kbps | WAV
Imprint
Hyperboloid Records
Nr#
HYPR 095
"Tell me how we would go on living"': you can consider these words as an essence for our new compilation Hyperboloid 2022. We have taken them from the lyrics of a new song by Gleb Raumskaya. Here you will find all the musical answers to the question of the musician from Omsk. Echoes of jungle, trance, breakbeat, ambient, hip-hop, bass and hyper-pop mix here into a whirlwind of feelings and styles. The collection starts with a farewell: our old friend Cadeu says goodbye to the departing year with ciao.
You can find a lot of familiar names here: Pixelord, Famitsu, Summer of Haze, Koloah and Max Dahlhaus released their records on Hyperboloid this year. Long-time residents of the label SP4K, BOGUE, Sangam, Zakladki, Fisky and Nphonix are also represented with their special tracks. Sport DJ and ellija, new producers on our label, introduce themselves as the fresh blood of Russian electronic music. And our fellow labels Aelita, Fuselab and INTERNETGHETTO send their regards through New Sylveon, WOLS, Broosnica, Dead Xice, PORTWAVE, Circuit Aesthetics and 3XPERIENCE.
TL:21 / 1:17:21
• Cadeu — ciao 3:25
• Pixelord — Крутой Бит 2:38
• Raumskaya — Дальше 3:21
• Sport DJ — Counterguardian 4:13
• Famitsu — RUBY 2:58
• Summer Of Haze — Moonspell 4:12
• New Sylveon — стая 2:01
• SP4K — Pink Snowflakes 5:33
• Sangam — Dark Approach 3:55
• Koloah — Pulse Tracker 3:32
• Bogue — Oil & Water 3:29
• Nphonix — Timerain 3:46
• Portwave — DIVERGERENDE 3:24
• Max Dahlhaus — Moonbow 3:59
• Wols — Ultramarine Kingdom 4:24
• Fisky — Отлёт 5:11
• ellija — Best Party 2:41
• Broosnica — Vaporizer 3:57
• Zakladki — Transhumanism 3:53
• DEAD XICE — Skyfall 3:26
• Circuit Aesthetics — VOICES (3XPERIENCE Remix) 3:35
«Скажи мне, как мы будем жить дальше»: эти слова можно считать самой сутью нашего нового сборника Hyperboloid 2022. Мы взяли эти строчки из слов новой песни Глеба Raumskaya — и здесь вы найдете все музыкальные ответы на вопрос омского исполнителя. Отголоски джангла, транса, брейкбита, эмбиента, хип-хопа, бейса и гиперпопа смешиваются здесь в вихре чувств и стилей. Коллекция начинается с прощания: наш старый друг cadeu провожает уходящий год в треке ciao.
Здесь вы найдете множество знакомых имен: Pixelord , FAMITSU , Summer Of Haze , KOLOAH и Макс Дальхауз в этом году выпустили свои записи на Hyperboloid. Наши давние резиденты — SP4K , BOGUE , Sangam , ZAKLADKI , Fisky и Nphonix — тоже представлены здесь своими треками. Sport DJ и ellija , новые продюсеры на нашем лейбле — новая кровь российской электронной музыки. А наши дружественные лейблы Aelita Records , Fuselab, RESEARCHCORE #INTERNETGHETTO передают нам привет через New Sylveon, WOLS, Broosnica, DEAD XICE, Portwave, Circuit Aesthetics, 3XPERIENCE.
Hyperboloid 2022
также распространяется как NFT-коллекция на платформе Opensea. 21 трек в количестве 1/1, каждый — с уникальной 3d-обложкой от художника gsmgarden!
Владельцы токенов получают доступ на все вечеринки артистов из списка, в любом месте мира, бесплатно и пожизненно, пока у них есть токен. Также они получают место в DAO и разные бонусы регулярно по пути роста лейбла, бесплатный мерч, промо релизов и прочее.
На сегодняшний день это первый случай продажи сборника треков артистов от российского лейбла в метавселенной.
Dead Link? (REPORT 1-5 Days) сообщить о ссылке на перезалив
Download albums, EPs, LPs & Compilations music.