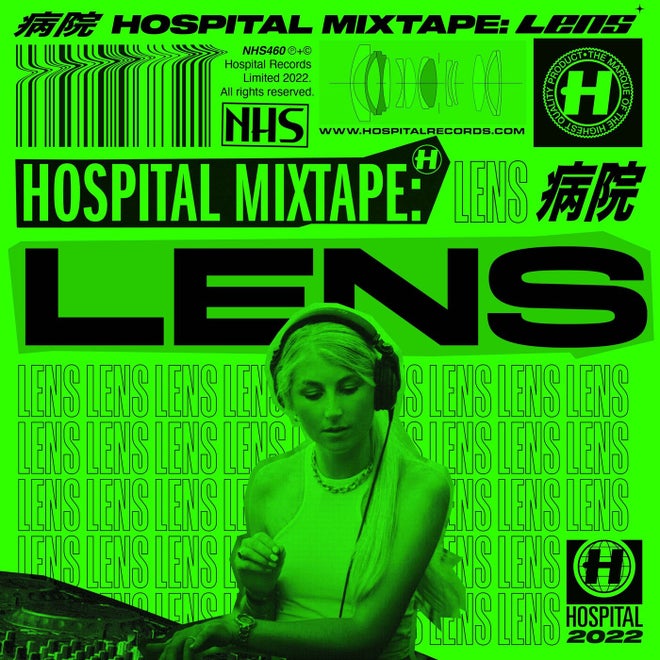 Music/Style
Electronic, Drum and Bass
Release date
25/03/2022
Quality
320 kbps MP3 + FLAC24
Imprint
Hospital Records
Nr#
NHS460
Format
Compilation
tracks: 17 / 1:13:08
• Watch the Ride, EMZ — READY4DEM 4:23
• Lally, Lens — Love The Way 3:52
• Nectax — Babylon Get Weak 4:13
• Camo & Krooked — Loa 3:59
• SL8R — In Ur Arms 4:07
• Rohaan, Ava Grace — Ares 2:46
• Winslow — Bob & Weave 4:35
• Whiney, Slay — Back In Action 4:19
• Athena — Divine Intervention 5:00
• Stay-C — Sploof 4:25
• Logistics — Rituals 4:36
• Euphonique/Redders — Reload 4:00
• Joja — Bounce 4:59
• TC — Decades 3:52
• Subwave — Possession 4:57
• imo-Lu — Hard Feelings 4:40
• enta — Keep Your Distance 4:32
"Creuser pour trouver de la musique inédite et organiser des décors font partie de mes activités préférées, donc être invité à créer la prochaine mixtape pour Hospital était un rêve absolu. Ma vision de la mixtape était de représenter les saveurs de la jungle qui me passionnent, mais aussi d'inclure des morceaux profonds et émouvants, ce qui m'a captivé lorsque je suis entré dans D&B. C'est aussi incroyable de sortir mon tout premier morceau avec Lally aux côtés de la musique fraîche de tant d'artistes dont je suis extrêmement excité. - Lentille
Après une pause de cinq ans, Hospital Records est extrêmement fier de présenter le retour de sa série de mixtape bien-aimée, organisée par l'étoile montante et sélectionneur de haut niveau, Lens. Avec les éditions précédentes compilées par SPY, Fred V & Grafix et Etherwood, et avec un clin d'œil à la série Hospital Mix emblématique dirigée par des artistes et mise en place par London Elektricity, Logistics, Danny Byrd, Nu:Tone et Cyantific, Lens est rapidement sur elle moyen de rejoindre les rangs de la royauté D&B. Soyez verrouillé et chargé pour une sélection sub-thumping de 17 pistes de nouvelles coupes exclusives de Camo & Krooked, Fade Black, Watch The Ride & Emz, Logistics, Subwave, TC, Whiney, Winslow, Lally & Lens et bien plus encore.
La "Lens Mixtape" sera disponible sur des cassettes en édition limitée ainsi que sur toutes les principales plateformes de streaming, qui comprendront un mix DJ continu de morceaux de compilation ainsi que de la chaleur fraîche de Hospital Records.
Les piliers de la musique dance Watch The Ride composé de DJ Randall, DJ Die et Dismantle fournissent un videur de coupe nette d'un instrumental tout droit sorti de la porte pour le contrôleur de micro Emz basé à Bristol à décortiquer. Legendary ne le coupe pas tout à fait - celui-ci roulera à travers les raves à gauche, à droite et au centre.
Le premier album de Lens, "Love The Way", est une collaboration passionnante fusionnée avec la productrice montante Lally, qui a déjà sorti des albums impressionnants avec Hospital, Soulvent et Archway. Attendez-vous à des échantillons inspirés de l'âme, des breakbeats bruts et une ligne de basse déchiquetée.
Parmi les autres points forts de la compilation, citons le remix très attendu de Fade Black de l'hymne "Loa" de Camo & Krooked, aux côtés d'un tout nouveau bubbler de Whiney & Slay, un nouveau destroyer dancefloor de Logistics, ainsi que des coupes froides de SL8R, Joja, Euphonique & Redders, Nectax & Parly B, et bien plus encore…
Déchirant les clubs, les festivals et les ondes du monde entier, Lens est très demandée, déchaînant sans relâche son arsenal intestable de morceaux lors d'une longue liste de spectacles légendaires, notamment Sun & Bass, Audioriver, Fabric et Drumsheds. Pour les auditeurs au foyer, Lens accueille également l'émission mensuelle Hospital Records Rinse FM. Apparaissant sur sa propre compilation Hospital Mixtape n'est que le début d'une année 2022 extrêmement chargée. et le reste du monde.
Dead Link? (REPORT 1-5 Days) сообщить о ссылке на перезалив
Download albums, EPs, LPs & Compilations music.