FREE DOWNLOAD MP3 TORRENT.

»

FLAC

» VA - 10 YEARS OF TSUNDERE VIOLENCE: THE COMPILATION (TV1869)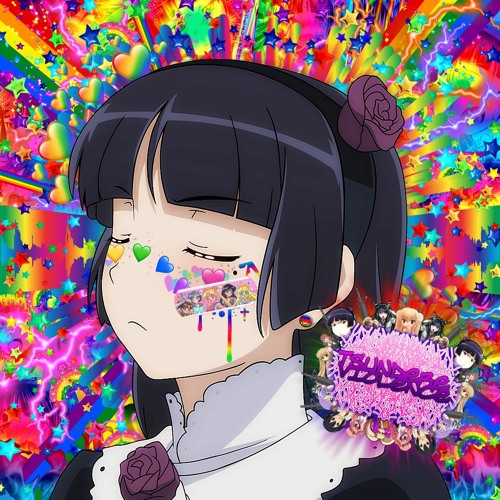 Style
breakcore, gabber, hardcore, j-core, lolicore, mashcore, noise, reizokore, speedcore
Release
4/2/2022
Quality
320 kbps MP3
Imprint
Tsundere Violence
Nr#
TV1869
Format
Compilation 180 Tracks+1. Shoebill — pendleton ward owes me big time 03:11
2. Chaosmond — Shitty Angel Fool 03:16
3. Mothtek & dj_ignorantlove — Barbiecore (MY AI DIED) 03:48
4. Himeko Katagiri — ハナマル☆マスターベーション 03:50
5. GUNSLINGER-R — FUIGYUAAAAAAAA TTO 03:20
6. Mary J Blige Pony Sex Party — Harakiri Teenage Diet 00:10
7. meronti — CUTE DESTRUCTION 01:51
8. Slax — Lunaticon 03:33
9. Ano.R — Visible Fxxkin' Kickz 02:04
10. roər — Mashcore style BREAKCOOORE 2 04:40
11. CaӤdy🍬Syлc — ペンは…元気です、ありがとう 02:27
12. wawawa — chiyo torturing methods 03:20
13. yumeo — Chinese Bomb vs Cyber Chihuahua 01:17
14. wUB.Man69 — Rhythmically Jelqing To The BPM of This Banger 01:36
15. Sam Fauchon — Finally, Someone Who Loves Me, AIDS And All 00:23
16. Antimatter Prism — Fuck Yeah Samplecore Forever LETS GOOO!!! 00:30
17. Sofiabot — 420 Mickey Mouse 420 Diaper Rash 420 00:01
18. Temma — TV FOREVARRR!!!!!!!!!!!!! 02:55
19. BOTLOGS — BOTLOG #02 03:06
20. Shimapan Society — Look Mom I'm Internet Famous 00:13
21. Kawaii amen girl — Massive shape 03:19
22. Decoded Flows — Tension! 03:38
23. 96-glass — Bounce with me 02:52
24. Harmful Logic — Punch Um 02:13
25. MO — PoiPoi 03:23
26. aphextwinsucks — trying to sound like CDR and failing miserably 02:14
27. Idiot And Virgin — RYM Sucks (and yes, this is due to all the ratings they gave me lol because they're all stupid enough to do it, knowing the fact that every track I recorded has to sound horrible and ridiculous on purpose) 00:42
28. Aeswa — Chop Off Your Head Breakmix 02:24
29. ghxst — egg song 01:18
30. £stretcher — I Love The Sicksons 01:03
31. slippymudman — Asshole Lavigne 02:12
32. Afdez — Italomagia 03:36
33. aphextwinsucks — KYARY SHITCORE (DAY OF DEADLINE MIX) 01:01
34. b!oxxy — Caramelldansen-wav 01:15
35. RAINBOW ★ STAR ★ 36 — Rabbit DoLL Lolita 01:32
36. MAGICOM — NEVERENDING BRAINROT 02:23
37. HAIZAI AUDIO — boogiefuck 02:41
38. Sam Fauchon — FUCK.wav 00:14
39. yvk1n0 — Dance Like You're Saying UUUAAAA!!!! 01:25
40. 808sndmindbreak — kai 02:39
41. Aquestion — anomori333 02:28
42. Lukas Thompson — 2015 03:38
43. CDR — Tsubasa n Bass 04:12
44. CONSTANTAUTUMN — The Death Of Chiyo-chan's Morality 01:00
45. CLONEPA — Vacuous Organ 04:56
46. calogin — The World Is Dark Young Man 07:18
47. HKE — Dummo 03:51
48. Cement Tea & Princess Army Wedding Combat — Distress Service 03:51
49. Himeko Katagiri — Noise Shift Nurses 04:09
50. The First Seed — Rack Em Up 01:16
51. shin(())code — $hit$creamFuckin$hit 01:57
52. Persefone — Paranoi Alias 02:45
53. Cuntspiltterkor — ANiMEKORE 909 04:42
54. antymis — collapse, in penumbra 04:40
55. Raver Blaster — How To Kill a Zombie 04:45
56. kendo — DANGER 01:39
57. nekomimi — How Im Feeling Now 02:45
58. TAROLIN — 魔魏亞 (TV REPLAY) 01:37
59. Coakira — Escape From Tokyo 03:53
60. Eighaphoria — 2122 05:02
61. Tektheist — Imagine Watching Anime in 2021 03:15
62. MAGICOM — AAAAAAAAAAAAAAAAAAAAAAAAAAAA (AAAAAAAAAAAAAAAAAAA) 01:13
63. MO — I'm not lonely 03:57
64. ・゚✧(=✪ ᆺ ✪=)-・゚✧ — i'll wait for you 00:48
65. Qui Stat Ex De — Overlooked Moments 04:20
66. jorei2 — 29 11 21 SHICHAEBA MS1 02:52
67. rehirable — Hardcore Melon Pan ! ! 02:01
68. wawawa — kdmnjkn 02:04
69. zahngnash — you'll still be gay in 25 million years 03:06
70. serenade — AMEN CHU♡CHU~ 01:05
71. MOCHAPOP — PASTEL☆PLUR 02:47
72. Cyte — IMOUTO ACID 03:54
73. Jessica Walrus — hamtarocore (Sunflower seeds edit) 01:38
74. jimmyrenzo — brinco y grito 02:13
75. elfaether — spleen queen 03:07
76. Mega_cursed — Die Kraft des Mondscheins 02:54
77. ilovedozy — HAPPY VIOLENCE 02:46
78. jaer — malaise 01:47
79. Cat Destroyer — Anime Moe Characters Will Conquer All 01:57
80. RUMBLERAGGA — PRECIOUS BODILY FLUIDS! 02:14
81. twothousand5 — petting a cat 01:58
82. Kalba9 — Raditude 02:58
83. Wizary — summer noize 02:45
84. Acid Applejack — Tsundere Shake Down 02:22
85. TRVSHBXVT — Le Danke's Amazing Booty Clapping Extravaganza (TRVSHBXVT 2022 VIP) 03:15
86. travongle — happy loli being as happy as never before 02:30
87. CBR — Dodecahedron 03:09
88. Sherkel — 死人花 07:23
89. shin(())code — なんでもないこと 06:06
90. Varovite — The Game 03:32
91. FLASH CONDUCT — Is This The Sole Cause 02:56
92. shin(())code — $peed no $hibuki 01:28
93. meronti — 410,757,864,530 DEAD LOLIS 01:35
94. Venta Protesix — Tsundere Delusional Fantasy 05:00
95. goreshit — LOOK AT ME TENDERLY (LOLtotheMAX Remix) 05:18
96. Varovite — Citrus Dream 04:02
97. POOSEYR1OT — POOSEYR1OT FINALLY FUCKING DOING SOMETHING 01:04
98. Beachgrave — catgirlz 06:14
99. DJ Sammy P — Faraway 03:56
100. strx wberrymilk — Gothic Romance 04:21
101. fresh til desu — Drifting on False Hope Parade 04:03
102. Bkode — Bliss To Relief 04:18
103. DJ Feelin' it — Not Holding Back 06:13
104. DJ Sammy P — Doctor's Orders (Hifi Mix) 03:20
105. kendo — i luv music <3 02:05
106. Linkhe — Speedy Sweet Dreams 01:51
107. Reithenameless — Yooooooooo 02:13
108. rikiie!! — don't feel like it 01:16
109. s4dunicorn — baphomet's baptism 05:32
110. Untrue Junglist — Dolby Noise Productions 04:30
111. XoArK — stolpris2 05:41
112. yong — no return 02:29
113. mikotohime — the 01:52
114. Yung Lain — Think Principle 02:49
115. Yellow Constellation — Damb Daddy you an Idiot [Valentyne Bday Remix] 03:36
116. TRVSHBXVT — BUFFETTWAVE 3 — The Wreckoning 05:26
117. LANIc0re — my daddy's got a gun 02:01
118. Loli in early 20s — yaderi 01:39
119. galfroa — lolidom extreme obliteration: while ponderous planets of unwaning woe revolve round me, deep down and deep inland there i still bathe me in eternal mildness of joy 02:22
120. MTS AIRMASS — winter has a new victim 03:17
121. Princess Army Wedding Combat — tfw I haven't watched any anime produced after Tsundere Violence started 03:17
122. Cirklon Fenneko Mike & Ike Arithmetic — Shop In Store (VIP) 04:18
123. synthacor — shining depth 03:15
124. musician17 — Fresh Wind 03:56
125. Noxw vs. 75258050866944 — Anti-Tsundere Lard Piss 01:35
126. Olio Rogue — Steadfast 03:42
127. sorwu — shattered_glass 02:34
128. Crow — Breakcore 05:35
129. W1sP — cbt torture 03:07
130. Skullcore — Realities Of Violence (Original Mix) 02:06
131. Raver Blaster — Kick that bass MTFK 04:47
132. Joni — EXTRA SQUAD 02:31
133. Aeswa — Eat Shit and Die 02:25
134. wh4t — Over The Top 03:06
135. Sherkel — Kukkiminen 07:39
136. slippymudman — POWERNOISEAMENDEATH 03:00
137. blue girl — bashar shitcore 04:05
138. MOCHAPOP — PLUR FOR PUPPYISH SCENECORE KIDZ 02:30
139. Kitty Gore — Mailme@JisatuSaakuru!! 04:39
140. jimmyrenzo — give me back my height :( 01:09
141. Wakko's Bitches — Mebae Life 01:37
142. Fiddlesticks_ — the internet told me to 01:07
143. IOSYS — SO FUCKING KAWAII (//dARTH nULL Remix) 03:13
144. hyp3rg0r3 — swinglikethis 01:37
145. ・゚✧(=✪ ᆺ ✪=)-・゚✧ — snow day ^.^ 01:28
146. 75258050866944 — 2s2s 01:38
147. Eviscerated Lolis — Sweet Jesus 02:03
148. Cat Destroyer — LOLI♡DOMINATION 02:00
149. Cyan Anxiety Orchestra — I replaced my social life with trackers 02:58
150. CHUB ROLL DILDO — THIS COMPILATION IS JUST A LOAD OF FUCKING NOISE… LISTEN TO EARLY MORNING ONWARDS BY BARCLAY JAMES HARVEST INSTEAD. THAT'S REAL MUSIC 00:52
151. Antimatter Prism — Very Fucking Crazy Insane Ultimate Lolicore Party!!!! 03:00
152. Stockport Swimming Team — Making Out At A Squarepusher Concert 00:50
153. Noxw — Anti-Tsundere Traditional Beats 03:22
154. PLOM — Valepules be more synonyms_But a vehicle is over here 00:48
155. fyuiop — несуразица в голове 02:45
156. Pentex — Rami Nana Hikari Deep Love 01:23
157. //dARTH nULL — homemovies.webm 02:59
158. Quillyear — RAW 04:06
159. my lovely burnt lover — your dad always accidentally leaves livejasmin running in the background on the family computer 02:49
160. MOCHAPOP — TOXIC𖤐SPARKLES 01:02
161. Re-Theá — NyanNekoPissGirls 01:15
162. The Hentai Noise Experiments — ingratiate 05:15
163. sorwu — fushigi 02:43
164. Anime break TV Receptor — Folds Breaking, New Entry Greater Worlds Solidified 07:00
165. Pentex — Soaking My Teeth on Nurse Komugi 01:33
166. Lord Cernunnos — Catgirl Pee 01:29
167. NEETISM — UNPROTECTED SEX WITH A CRUSTY SOCK 01:38
168. Sofiabot — Chinon Nursing 2019 Female Organ Model Delivery Mechanism Labor Simulator Birth Control Training 00:01
169. sorwu — clueless 02:55
170. //dARTH nULL — LOLiCORE⇧LOAD.moe 02:53
171. DJ নদীর মাছে বিষাক্ত পদার্থ পাওয়া গেছে যা আমি আমার পরিবারকে খাওয়াই SUCK MY DICK — আমিন বৃষ্টি ভাঙ্গা টেপ প্লেয়ারدموع33 00:03
172. Hallend Oats188 — Obligatory Nerd Slaughter Song 00:08
173. Painful Acidic Mezzanine — Familiar Complications 00:47
174. galfroa — where lolis learn to piss on command 06:00
175. Crow — Coffee 05:24
176. ilovedozy — TO SEE ME OVERWHELMED 02:19
177. Thombo — MobShit 02:41
178. MakadeKaen — Alien Comet 03:13
179. wenton — dyers vaseline x____n 03:14
180. Kitty Gore — INTROVERTSUICIDE 6 02:50
181. MakadeKaen — Loli Getting Deflowered (Don't Worry, It's Kinda Wholesome) 02:27
182. 75258050866944 — Oh My Fucking God, It's 75258050866944 03:45
183. Ninja McTits — Komm Süsser Tod 07:56
10 YEARS, 10 AMAZING YEARS~!!! It's so surreal to me that Tsundere Violence is now officially 10 years old. Running Tsundere Violence has been an absolutely amazing journey over the past decade; I have seen the scene morph and evolve, have seen folks and styles come and go, and have met so many amazing people over the years. I am so insanely happy and thankful to God to see how much Tsundere Violence has grown, and how much my values have permeated the very fabric of breakcore itself.
I got into lolicore in around 2011, I absolutely fell in love with it immediately, and the whole course of my music changed (I was making regular breakcore prior). I could instantly tell that there was something deeply magical about this genre and its music, and I immediately wanted to get involved. I started reaching out to various artists via YouTube, then later last.fm and Soundcloud as well. The very first music person I met was DJ D1ed, and he helped me get started (I didn't even know Soundcloud existed back then). I quickly made more friends in the scene, such as Abra, FoxxyDekay, and RaevLoli. I absolutely loved this community, but I saw a problem, lolicore was dying.
At around the same time that I started getting heavily involved in the genre, many of the classic artists were leaving for one reason or another, it was a major exodus. I loved this music too much to let it die, I knew its values and music was too important to just fizzle out like that. Together with RaevLoli, we formed the Lolicore Artists Association (LAA). This was a Facebook group we created (it still exists actually), and we tried to add as many active artists as possible. This was when I met artists like Vaenus, Pkthundaga, BillmaZter (RIP), 4649nadeshiko, and so on; all of which were incredibly close friends of mine during this period.
Although LAA was helping to keep us as a close community, I saw there was another problem occurring, our music was scattered everywhere and was too hard to navigate. I knew that the lolicore revivalist movement needed to be centralized to be effective, so I took up the helm and created Tsundere Violence as a place for us to all release our music in one place. Everyone loved the idea and the label was immediately pumping out lolicore from this new budding scene. Over the years I saw the label grow more and more, it has now featured artists from allover the world, and the amount its grown is just astounding to me. It has lead to me meeting (and even befriending) heroes of mine, such as Princess Army Wedding Combat (who's on this comp).
What I'm even happier about though is that Tsundere Violence has been able to succeed without ever once wavering, and that my values continue to exist in this scene and community. Tsundere Violence exists to preserve and spread the original lolicore values, as well as being a welcoming space for artists of every level and creed. Lolicore is music of the soul of those who don't fit into society, and I wanted to create a community where we do fit in. Lots of people think lolicore is just edgy internet music, but the real ones know that that's only the very surface of the genre. Lolicore is about self-expression, lolicore is about community, lolicore is about supporting the creative efforts of others, lolicore is about getting out there and making music even if you don't know how, lolicore is about community and acceptance, lolicore is about taking every reason why you don't fit into society and making those your strengths, lolicore is what you feel.
I am so blessed to have been able to continue my label for all these years and preserve and spread all of these values of lolicore. In recent years, with the growing popularity of goreshit and Reizoko Cj, lolicore has finally been accepted into the rest of breakcore. Its amazing to see the label's values of acceptance and self-expression to be expanding into the greater scene as a whole, we are stronger in numbers. Although lolicore developed outside of breakcore (and not even having to resemble breakcore), its so awesome to see how much the breakcore scene has grown recently, this massive revival brings me back to the lolicore revival I started so many years ago. The music is the people, and the people are the music, so please, everyone, if you love a genre, keep supporting it, keep making it, keep doing parties, and so on; with hardwork, every genre can be eternal.
Running Tsundere Violence has been such an insane roller coaster. From the simple early days to now, has been such an amazing journey. There has been ups and downs, times I struggled with depression, times I really had to do a lot of critical thought to continue to grow the label in a changing world, but everything was worth it to be able to make it to 10 years. Its hard for labels to live this long, and to also adapt to all of the world's changes; Bandcamp wasn't even a thing when I started. The label started in a world when lolicore was just a tiny microcosm of anonymous artists in a deep corner of the internet making music for themselves, and now the genre has grown more than literally any of us ever possibly imagined. Its also so surreal to see a label that I started back when I was just 16 for my friends and I has grown so much more beyond that.
I need to thank everyone who has made all of this possible. Although Tsundere Violence always was and always will be just me as the sole "employee", tons of people have supported both me, the label, and the music, over these past 10 years. I especially want to give enormous thank yous to some of my best friends who have helped me through some dark times. Thank you Cement Tea, Meronti, tiku sens, PAWC, and Ayane Fukumi, for all of the support these past few years. I want to specifically thank you Cement Tea, you're seriously one of the greatest friends I've ever had, and have helped me so much. I want to specifically thank you Meronti, you're one of the most amazing people ever, and have been such an amazing friend.
There are too many names to list, and this statement is already absurdly long, but THANK YOU GOD, THANK YOU JESUS, THANK YOU FOR ALL OF YOUR BLESSINGS IN MY ENDEAVORS AND LABEL. Thank you to my parents, especially my Mom, who have been so supportive to me all these years. Thank you to every artist who has ever been on the label, thank you to every listener these past 10 years, thank you for every listen, download, demo, and more. Thank you to every DJ who has spun our music, and every event who has booked our artists. Thank you everyone who has ever supported the label and listened to our releases. Thank you for every kind message, for all of the support, for everything. Thank you for letting Tsundere Violence be a part of your life. Labels can only thrive with the support from their communities, so thank you. Seriously, from every fiber of my being, thank you everyone, I absolutely love all of you, I love this scene, I love Tsundere Violence, and I love lolicore.
Thank you everyone for the greatest 10 years of my life, and may there be many more. I love you all, LOLICORE FOREVER.
- Himeko Katagiri
Dead Link? (REPORT 1-5 Days) сообщить о ссылке на перезалив
Download albums, EPs, LPs & Compilations music.